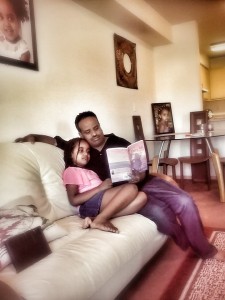 Is Fraol Bekel the winner of the competition with 390 likes? Hmm, maybe not; because there are other competitors coming up!
For today, I have one contestant from Seattle, Washington. His name is Samson Assefa. He is a husband of one beautiful woman, a father of one beautiful young girl and one little boy. Here is his favorite quote from my book:
" Do not dwell on those thoughts which are against your beliefs and convictions. Rather, find a Bible verse ….pure, and lovely, and dwell on that instead" Page 35
When Samson first contacted me, he sent me a note that deeply touched my heart. I want to share part of that note with you all, (with his permission):
"Thank you Dr. Meskerem! I already have your book and 2 CD's. My wife and I live in Seattle with our two children. We praise the Lord for your ministry . . . many Christians believe if the decision of the Supreme Court on gay marriage reversed, their children and family will be better off. I have a different perspective. I'm not happy with the court decision to redefine marriage but I also believe that my kids' destiny is not determined by the Supreme Court's decision. I don't expect any good to come out from people who refused to acknowledge the existence of my God. I don't expect them to live in my standards either! Even if we are able to reverse the law, I don't think that solves the issue at all. A new law cannot save our kids from the devil, a new administration cannot save our generation from dooms, and a new group of conservative judges cannot heal our sicknesses. The only available and right remedy we need to bring into our family, our homes and into our bedrooms is Jesus Christ!"
Amen and amen! I love it! Let's mentor the next generation with the truth of God!
We need to speak up! We need to communicate with our kids about the truth of sex and sexuality according to the Word of God.
God's Word is not silent about sex and sexuality; WHY ARE WE?
We shouldn't be silent! My book "Beyond the Fairy Tale" helps parents not to be silent! It helps them start up a conversation on the topic of sex without making them feel uncomfortable.
If you didn't get my book yet, I encourage you to get it today by clicking the following link: www.appealforpurity.org/storefront
Once you get my book, read it with your kids. Answer their endless questions. If they don't ask you, it doesn't mean that they don't have question; it may mean that there are lots of things they need to know. You, the parent, are the only resource your kids have to get the truth about their sexuality.
If you want to take part in the competition that is going on this page but don't know anything about it, read here: http://appealforpurity.org/2015/06/16/a-game-for-a-prize/
My book is not in Ethiopia yet. If and when it gets there, we will let you all know on this page. So, stay tuned.
Samson, I wish you all the best! ///