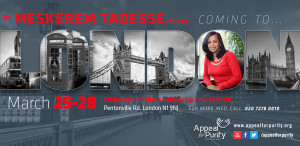 The Ethiopian Christians Fellowship Church in UK invited me over for their 2016 Easter Conference which is going to be on March 25-28.
If you live in London, I invite you to come out and worship God with us for this wonderful Easter Conference. If you don't live in London but know someone who does, invite them over on my behalf.
During the Easter weekend (March 25-28) everything is going to be closed in London for the holiday. Isn't that wonderful!
What a joy and a privilege for me to worship God with the people of God in that holiday celebration weekend! I am so looking forward to it! ///