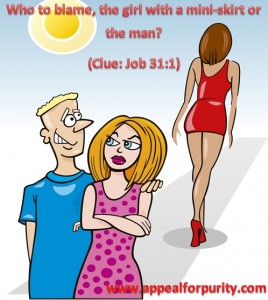 "I made a covenant with my eyes not to look lustfully at a young woman." (Job 31:1)
How can a young man resist the urge to look and lust after a cute girl? He can't; but the spirit in him can enable him.
"For God didn't give us a spirit of fear, but of power, love, and self-control." (2 Timothy 1:7)
And the spirit of self-control says: Do not turn to look at the girl; I will help you.
But trusting and obeying this spirit requires training. That is why Paul wrote to young Timothy saying, "Train yourself to be godly" (1 Timothy 4:7).
It requires training because for a man, resisting the temptation to turn around and steal a look at a beautiful girl doesn't come naturally. It demands intentional and purposeful training and discipline. Otherwise he will walk his entire life being an adulterer before God. Why? Because of what Jesus said on Matthew 5:28:
"But I tell you that anyone who looks at a woman lustfully has already committed adultery with her in his heart." 
And a young woman can choose not to be a stumbling block, a reason for a brother to sin against God by adorning herself in a way "appropriate for women who profess to worship God." (1 Timothy 2:10b)
However, if a woman chooses to go half or fully naked, a young man who is trained by the spirit of self-control can pass her by without falling into the trap of lust. – Job 31:1 ///