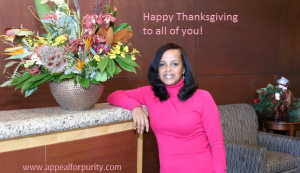 These holiday greetings are for those who are going to celebrate Thanksgiving tomorrow.
With the way things are going around here, I don't think I will have time to drop my Thanksgiving Day greetings tomorrow morning.
My house is soon going to be full of people I love, treasure, and respect, and we all are going to stay together until Saturday night. Isn't that lovely? I mean, what is Thanksgiving without the people we love around us?
Let's celebrate Thanksgiving with those we love and when we do that, let's all remember to give thanks to God for this great nation, America, and its forefathers who made this nation what it is today.
Happy Thanksgiving to all of you! ///
P. S. Picture credit: PlanetShakeriPhoto