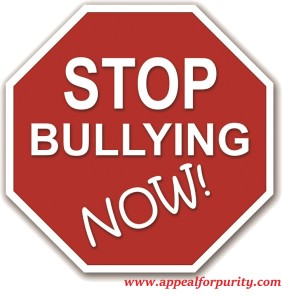 It was around this season that my husband and I began looking for a good school for our first son (Abel). After we visited a number of schools in our area, we found one school that was close to my husband's work. I was home with our daughter (who was two) and our little one was four or five months old.
Just like many married couples, my husband and I didn't have any clue what it meant to be parents. So, we bought Dr. James Dobson's books on parenting. Oh, how I bless Dr. Dobson, founder of Focus on the Family! I wonder if Dr. Dobson knows how many families, children and marriages God rescued, salvaged, and saved through his books and radio messages! May the LORD bless him and all who belong to him!
So, I always read Dr. Dobson's book and I learned that I needed to pay close attention to my little ones when they begin to go to school. Why? Some little kids can be victims of bullies.
After Abel went to kindergarten for two and three months, all of a sudden he began to be quiet. I always studied his face in the rear-view mirror when I picked him up from school and I asked him different questions, such as, "What did Ms. Matthews say today?"
On this particular day, my son gave me very quick answers to all my questions turning his head to the outside. Imagine, my daughter was sitting on the left side, my little one was in the center and Abel was sitting on the right side. I couldn't get him speak that much. Continue reading A Bully Needs a Man to Stand on His Way →