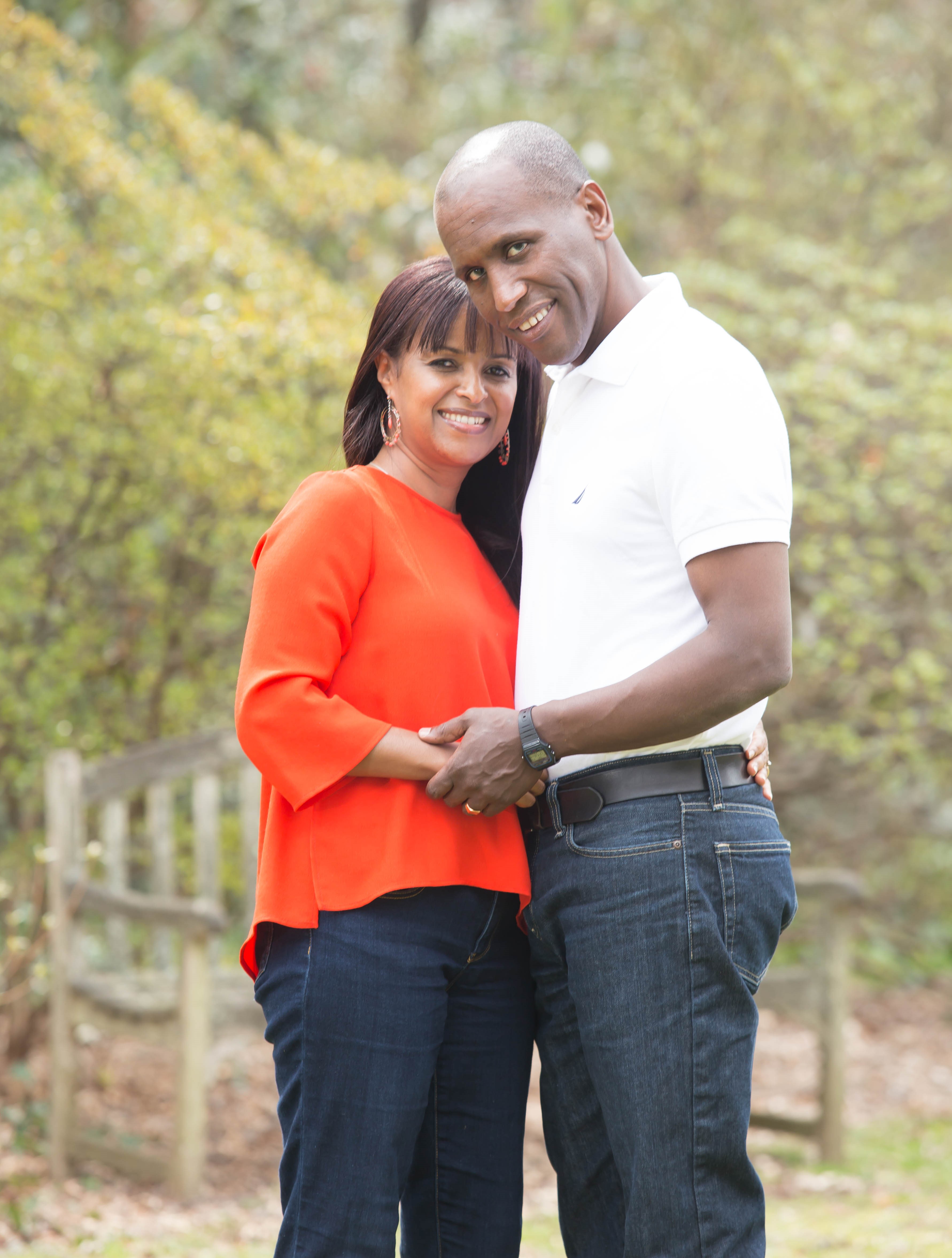 Have I ever told you how much I love my husband? I haven't, have I?
I don't think so. Hold on a second! Let me scroll down and check.
Okay, I haven't since the beginning of November.
So, yes, I am madly in love with my husband. I first laid eyes on him when I was 17, and you know what? My eyes are still on him after 22 years, 8 months and 10 days of marriage. It feels really good and right to keep on falling in love with the man I'm married to.
There was one guy who was pursuing me when I was in the process of deciding to marry my Berhan (my husband). Can you believe that? What if I went with the other guy?
God saved me!
(Don't worry! My husband knows everything about this. So, relax and keep on reading.)
I always say this to my husband: "Because my God wants me to be alive for His glory, He gave me you!"
And it is true!
Anyways, so this other guy was a good looking guy. We both used to go to the same church and many girls were interested in him. I, for some unknown reasons, however I was not that excited about him or his looks. But I was 100% sure that he was a devoted and spiritual man.
Please ask me, why?
Because he played instruments at our church. So, my thinking was (yes, I was stupid), "Because he loves Jesus Christ so much, he plays music at church whenever he can."
Have you ever seen a spiritually stupid and immature person like that? I have, because I was one.
So, this other guy usually calls me and we talk. What do we talk about? All about Jesus Christ and His word! I mean, I had a boyfriend (my current, wonderful husband) and he knows that. So, it must be okay to talk to a guy on the phone about Christ, right?
Wrong! Another stupidity on my part! But God, because of His mercy and grace, for His name's sake, turned it all around for my good. May His name be praised forever! I am so thankful that my Berhan is my husband and I am thankful that he married me. He also promised me to stay married to me to the end. Hooray! I am not joking! I am so happy!
Sorry, sometimes I just get excited thinking about him!
Let me get back to my story.
So, before my boyfriend (who is my husband now) proposed to me, this other guy went to the West Coast for a business trip. He called me and told me how the weather was, about the hotel he was staying in, and everything about the city. Well, one time he said to me, "Why don't you come over? I will cover your travel expenses. I would love to drive you around and show you the city. There are even churches you may be interested in visiting, too."
Honestly speaking, I was thrilled! Not really to see him, because, of course, I was not attracted to him at all, but to see the West Coast. At that time, I had never been on the West Coast, so I felt like God was presenting great opportunities to me. I foolishly told myself, "I will stay in the hotel by myself and I will just go to see the city. If he makes any moves, I will simply tell him that I am not interested."
Another stupidity on my part!
How many lessons did you guys get so far from this post, especially you young, single Christian girls? I hope you won't miss any of these lessons today.
So, I paused for a moment and I said, "That is a good idea. You know what, let me check my calendar and I will let you know. I am sure I'll be able to go."
I was super excited to see West Coast. And of course this man of God was excited to show me the West Coast!
Hahahahaha! I thought so!
Another stupidity!
Then that same day, my boyfriend (my Berhan, my husband now) took me out for dinner. He knew that I met a guy at church and that this guy would call me. Berhan was not (still is not) a control freak, but he was (and still always is) a very wise and careful listener.
So, I said, "Guess what? I am flying to the West Coast. "So and so" is there for a business trip and he invited me. And can you believe that he said he would cover my travel expenses?"
In hindsight, when Berhan and I talk about this day and how he felt when I told him that, I always say to him, "But you kept your cool so well!" He tells me he was nervous, but he was so calm that I wasn't even sure that he was listening to me.
Just think about it: my boyfriend, soon-to-be fiance, was shopping around to buy a nice diamond ring to propose to me, while I was playing "friend-friend" with another guy. Wow! Only my Berhan could have been so calm!
When I told him, he said, "Oh, yeah! Where is he?"
I told him, and he said, "Well, I am planning to take you to another part of the West Coast next summer. Why do you want to go now? And you've already applied to two different universities and you have to follow that up. I don't think it is a good idea to travel now."
And get this.
I listened to him!
I trusted his advice!
Is this another stupidity??
Are you kidding me?????
Oh no no no, this was the only wise thinking found in me at that time. My dad, who is now with the Lord Jesus Christ, used to pray for God to give his "crazy daughter" wisdom, and I think this was the beginning of the answer to his prayers.
Yes, I am eternally thankful that my Berhan married me. My immaturity and childish way of seeing life didn't discourage him from pursuing me. He believed that I would grow and mature, and with just a few sentences, saved me from great dangers! Aren't you happy for me? Yes, God was watching all of my goings and comings, and guess what? He still does! May His name be praised forever!
"The Lord watches over you[me]—
the Lord is your[my] shade at your[my] right hand;
the sun will not harm you[me] by day,
nor the moon by night.
The Lord will keep you[me] from all harm—
he will watch over your[my] life;
the Lord will watch over your[my] coming and going
both now and forevermore." Psalm 121:5-8
Add your name in place of you/your and read the passage over, and remember how many times God has helped you to escape the devil's snares!
Then do you blame me for being madly in love with my Berhan? I hope you don't. And I have many other reasons, and I will share more with you another time.
"Um, what is the message of today's post?" Did you just ask that question?
My answer is: Well, you tell me. Go ahead, tell me! ///