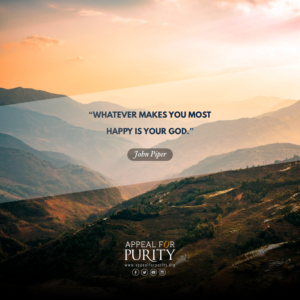 No, not like that but the correct way to ask is this:
What or who gives you the greatest joy and happiness?
Or, Where do you go to get your "shot of happiness" when the going gets tough?
Or, when everything seems to pull you down, where do you go to get "high?"
Or, when you feel like you want someone to love you or hug you but you find no one, where or to whom do you go?
That thing or that person is your god!
God wants to be our sole source of joy, happiness, comfort, rest, hope and inspiration to do anything. And rightly so! He is the only One who can meet our needs. The rest are just there to take His place in our hearts.
Did you find your idol yet?
I sadly singled out my idol the moment I was confronted with one of John Piper's, "When I don't desire God" wonderful lectures/speeches/sermons. They are available on YouTube. Please listen to all of them.
Your life won't be the same. ///