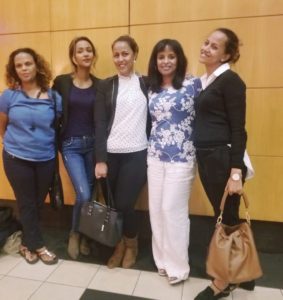 Praise the LORD!
You have no idea how much I miss my home whenever I am away! Why my home? Because that is where the man I am deeply in love with, my best friend, my Berhan, lives in it. And my lovely and funny kids live in it too. So, I am always excited to come home whenever I travel.
Yes, I am home, Maryland, the land I adore!
I had a wonderful time at the Generation for Christ Church (G4CC) in Johannesburg, South Africa.
Before I tell you anything about the program, I would like to thank some people who have worked hard to make this program a success:
Thank you Pastor Genene for having me over to the house of God, the house you are pastoring. Thank you for all your kind gestures and hospitality.
Thank you Timnit (Tim), Pastor Genene's wife, for spending time with me and praying for me throughout the program. Thank you Tim for leaving me encouraging text messages right after each program. Appreciate that very much.
Thank you Israel and Adane (a beautiful couple and parents of three nations) for your generous financial support to your church so that I would come and minister there among you. Thank you, Israel, for following the Appeal for Purity Facebook page for the past six years. May God use you to bless others with the kind of lifestyle that God honors and loves to see in each of us, His followers!
Thank you Frehiwote (Enuyie konjo) for being my humble chauffeur. You are such a nice person and funny too. I still can't believe that you are single. Oops!
🙊
🙉
🙈
I said it, didn't I? But I heard that one lucky man has already stolen your heart. Good for him! Tell him that he chose the best one!
Thank you Rahel (Richo), a wife of one man and a mother of three beautiful kids, for encouraging me throughout the program. You are such a kind and beautiful soul. And thank you, to you and your better half, for sharing some of the financial expenses with Israel and Adane so the church won't be burdened by it. May God bless you both!
(The picture I am sharing with you, from left to right, Timnit, Rahel, Israel, poor me and Frehiwote or Enuyie konjo).
And I would like to say thank you for all the audio and video crew that I gave hard times to. I hope you all have forgiven me
☹️
. May God bless you all!
Last but not least, I want to thank all the people who have come to attend the program from different places, walks of life and systems of belief. Even if I didn't get a chance to greet each one of you, I was able to see you all. So, I thank God for that! And thank you for allowing me to worship God with you. And thank you for listening to my messages. May God bless you all!
Oh, my! The G4CC worship team! I thank God for you, especially the women, for adorning your bodies in a way that doesn't distract anyone from worship. Good job ladies! I am very proud of you! And you all are gifted with the skill of leading the whole congregation into worship. Good for you!
Okay, so, let me tell you about the program:
I first spent the first two days with singles. Many young men and women, from different churches and denomination, have attended the program eagerly and asked very interesting, honest and straightforward questions. So, every second of my stay with them was worthwhile! Praise God!
Then I spent two days with married couples who again came from different churches and denominations. Since none of them have attended "for married couples only" kind of seminar before, they were a bit nervous, tense, and I guess they were also a bit "scared." But the program went very well, praise God.
I then spent the rest of my time with the general congregation.
By the time I finished the program, I had this sense of "accomplishment and fulfillment," that I always ask God to give me at the end of a conference. I was totally spent and exhausted physically but my spirit was lifted so high that I felt like I was on drugs. Praise God! Yes, as the Bible says, "Don't be drunk with wine, because that will ruin your life. Instead, be filled with the Holy Spirit" (Ephesians 5:18 NLT)
At the end of the program, which was Sunday evening, after dinner, I went to my hotel room and I was totally drunk with "the wine" that only comes from the Holy Spirit and I ended up staying up all night. No, I was not tired the next day because this particular wine has no hangovers; only joy, peace and love. I so love to be drunk with this "wine." I really do! ///