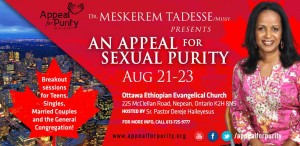 If you live in Ottawa, Canada or in one of the nearby cities, join me and the people of God at the Ottawa Ethiopian Evangelical Church starting from Friday, Aug 21 to Sunday, Aug 23.
I will be teaching to teens, young adults, married couples and the general congregation. The topic will be: "An Appeal for Sexual Purity."
For more info, contact the church directly at: 613-725-9777.