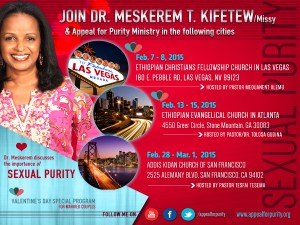 May the Name of our the Lord Jesus Christ be blessed forever!
I can't tell you how excited I'm about what God is doing, as usual, behind the scene!
Oh, how I love Jesus and being found in Him!
God is opening up more doors for me and the Appeal for Purity Ministry to spread the Truth of God about sexual purity! Praise God!
So, mark your calendar for the month of February if you live in one of these cities I am planning, if God wills, to minister at.
Don't you love the Valentine's Day celebration? I do!
Come out and celebrate with us the Valentin's Day at the Las Vegas and Atlanta churches. And there will be a wonderful program at the San Francisco church at the last week of February!
Share the flyer with your friends and families and invite them to come over.
Thank you for standing up with me! May the Lord bless you! ///