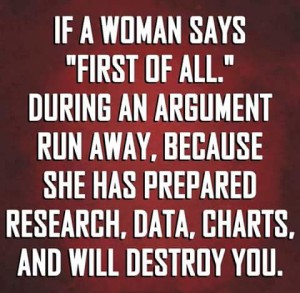 Someone dropped this poster in my inbox and I laughed very hard. Why? It has some truth.
When an argument or a conflict erupts between a husband and a wife, I believe a man has to be very wise from which side he has to present his case.
Most of us women are very good at remembering events that happened ten or twenty five years ago; but not our husbands. We can remember because we tend to "tag" every event with emotion; which is a big help for our brain to retrieve past stories quickly and very easily. Our men, on the other hand, usually don't tag events with "Oh, my! I love that!" Or "Aww! That is awesome!" Or, "My! That deeply hurt my feeling and I don't think I will ever forget it" kind of emotion. So, it is easy for them to forget it.