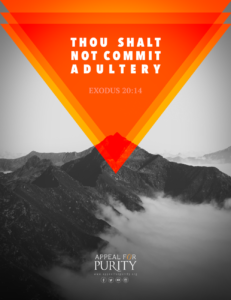 The law says, "Thou shalt not commit adultery." (Exodus 20:14 KJV)
Then Jesus came and said, "You have heard that it was said, 'You shall not commit adultery.' But I tell you that anyone who looks at a woman lustfully has already committed adultery with her in his heart." (Matthew 5:27-28)
"Thou shalt not commit adultery" sounds easier than what Jesus is asking us to do here.
Hold on a second: Is Jesus giving us another command here, another a tough one, harder than the first one?
I mean, think about it, you can browse around and look but as long as you do not physically walk on your feet and commit adultery, the Law cannot accuse you because it only says, "Do not commit."
So, is Jesus giving us another "impossible to obey" kind of command?
I mean, He is literally saying, "Don't look at a woman that you are not married to twice unless you want to be held responsible for the crime of adultery in your heart."  
How many of us can we say that we have never committed such a sin?
Okay, let me talk about myself.
Not me. I am the chief, my friend!
Okay, let me be fare for myself, "I was the chief!" I am not now. Praise God!
Let me not forget my train of thought here.
So, did Jesus give us another Law to keep, not break it? Didn't they say that He came to actually free us from the Law?
And Jesus knew very well that we all blew that specific "act" in our hearts and bodies. How can, then, He asks us, who are already "swimming" in the very act, to never commit it?  
?
Hmm, make you think twice, doesn't it?
Well, guess what Jesus is doing when He says, "But I tell you that anyone who looks at a woman lustfully has already committed adultery with her in his heart." (Matthew 5:28), He is helping us see how utterly lost we are by showing us where sin exactly made its abode.
The Law is only there to show us how sinful we are, and Jesus helped us to see what the Law had been trying to show us more clearly by showing us the exact "residence" of sin.
So, when we get to Matthew 5, we feel hopeless and despair breaks our spirit into a million pieces knowing that we can do nothing to make our lives to measure up to the Law. We come to for sure that we are hopelessly lost and in need of a savior, don't we?  
Yes, sin lives in us. We don't need to go anywhere to commit adultery (Matthew 15:19). Not only that but because sin lives in us, it killed us, we are dead for the things of God.
So, as the root of any sin lives in us, "adultery" lives in us too.
Paul must have reached to this point of hopelessness, realizing that he is actually sold to be a slave to sin, for him to say:
"What a wretched man I am! Who will rescue me from this body that is subject to death?" (Romans 7:24) 
We too until we find ourselves in this hopeless spot that Paul found himself at, we can't understand and appreciate what Paul is saying next:
"Thanks be to God, who delivers me through Jesus Christ our Lord!" (Romans 7:25a)
So, asking or commanding a man/woman not to commit adultery or to stop watching porn is like commanding a cat to bark like a dog.
R. C. Sproul once said, "We are not sinners because we sin. We sin because we are sinners."
We sin because the only thing our nature knows how to do well is sin.
That means, there is no "12 step strategy" that can help us to stop committing adultery or stop watching porn.
Phew! Talk about HOPELESSNESS, this is it!
Sin lives in our sinful nature and our sinful nature has to be put to death. No other way except ONE.  
When we invite and welcome Jesus Christ to live in our hearts as our only Lord and Savior, we become "dead to sin but alive to God in Christ Jesus." (Romans 6:11b) This means, we receive a "brand new" nature in Christ (we'll be born into the kingdom of God through the Spirit of God – John 1-3) and we become one with Christ in His death and resurrection (Romans 6:5, Colossians 2:9-15).
We will be baptize into His death as Jesus Christ puts our sinful nature to death with Him on the Cross and through His resurrection, He raises us up and gives us our bodies as instruments of righteousness and temple of the LORD (1 Corinthians 6:18-20).
"And if the Spirit of him who raised Jesus from the dead is living in you, he who raised Christ from the dead will also give life to your mortal bodies because of his Spirit who lives in you." (Romans 8:11)
"Those who belong to Christ Jesus have crucified the flesh with its passions and desires." (Galatians 5:24)
 ""He [Jesus] himself bore our sins" in his body on the cross, so that we might die to sins and live for righteousness; "by his wounds you have been healed."" (1 Peter 2:24) – by His wounds, we have been healed?
Healed from what? Healed from the root of all diseases called SIN!
In Christ, we become dead to sin.
"Now if we died with Christ, we believe that we will also live with him. For we know that since Christ was raised from the dead, he cannot die again; death no longer has mastery over him. The death he died, he died to sin once for all; but the life he lives, he lives to God. In the same way, count yourselves dead to sin but alive to God in Christ Jesus. Therefore do not let sin reign in your mortal body so that you obey its evil desires. Do not offer any part of yourself to sin as an instrument of wickedness, but rather offer yourselves to God as those who have been brought from death to life; and offer every part of yourself to him as an instrument of righteousness. For sin shall no longer be your master, because you are not under the law, but under grace." (Romans 6:8-14)
Once Jesus, the One who had been raised from the dead, starts to live in our hearts, we are dead to sin but alive for righteousness. Even if we live just like the people of this world, we are actually living in the realm of the Spirit.
"You, however, are not in the realm of the flesh but are in the realm of the Spirit, if indeed the Spirit of God lives in you. And if anyone does not have the Spirit of Christ, they do not belong to Christ. But if Christ is in you, then even though your body is subject to death because of sin, the Spirit gives life because of righteousness. And if the Spirit of him who raised Jesus from the dead is living in you, he who raised Christ from the dead will also give life to your mortal bodies because of his Spirit who lives in you. . . For those who are led by the Spirit of God are the children of God." (Romans 8:9-14)
The good news is that we are dead for it to have any power over us.
When we forget this truth, we go and give our bodies to sin as an instrument of death. But the truth is, "It is for freedom that Christ has set us free. . . But do not use your freedom to indulge the flesh; rather, serve one another humbly in love." (Galatians 5:1a, 13b)
Jesus Christ died for us to  free us from the grip of sin. Because of His death and our faith in Him, we are justified before God and day by day, slowly but surely, we are taking the image of Jesus Christ (Romans 8:29). This is called sanctification.
And at the end, we will be glorified in Christ Jesus forever and ever!
Because He lives, we shall also live! (John 14:19b)