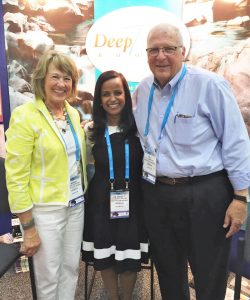 Bill is the CEO of Deep River's publishing company and Nancie is his bride for 50 years (they just celebrated their 50th year wedding anniversary).
Deep River is my publisher!
I can't tell you how much I appreciate this couple! They believed in me and my vision before I did.
Bill is the one who encouraged me to open this page; he is the one who believed in me and found a sponsor for me to publish my book. He is the one who said to me when I was hesitating to publish my book, "Missy, you have a God-given and timely message. You got to know that and people got to hear this message."
I'm not sure how I can thank them and the rest of the Deep River crew; for example, their son, Andy Carmichael who has been with all of us since Sunday and their wonderful secretary Beverly – oh, Bev, she is the most caring person you can ever find in the publishing industry.
I also met excellent authors and it is an honor to sit next to them and sign my book. It is a joy and a privilege for me to meet all these wonderful Christian fiction, and non-fiction, book writers and writers of all kinds of biblical teachings.
I will write more when I get home. Have a blessed Wednesday! ///
P. S. Guess who took this picture and the previous posted video? My hubby, my Berhan! My Love and my three kids are with me here in Cincinnati, cheering me up and supporting me in every way possible. Oh! Where would I be without them being in my life!