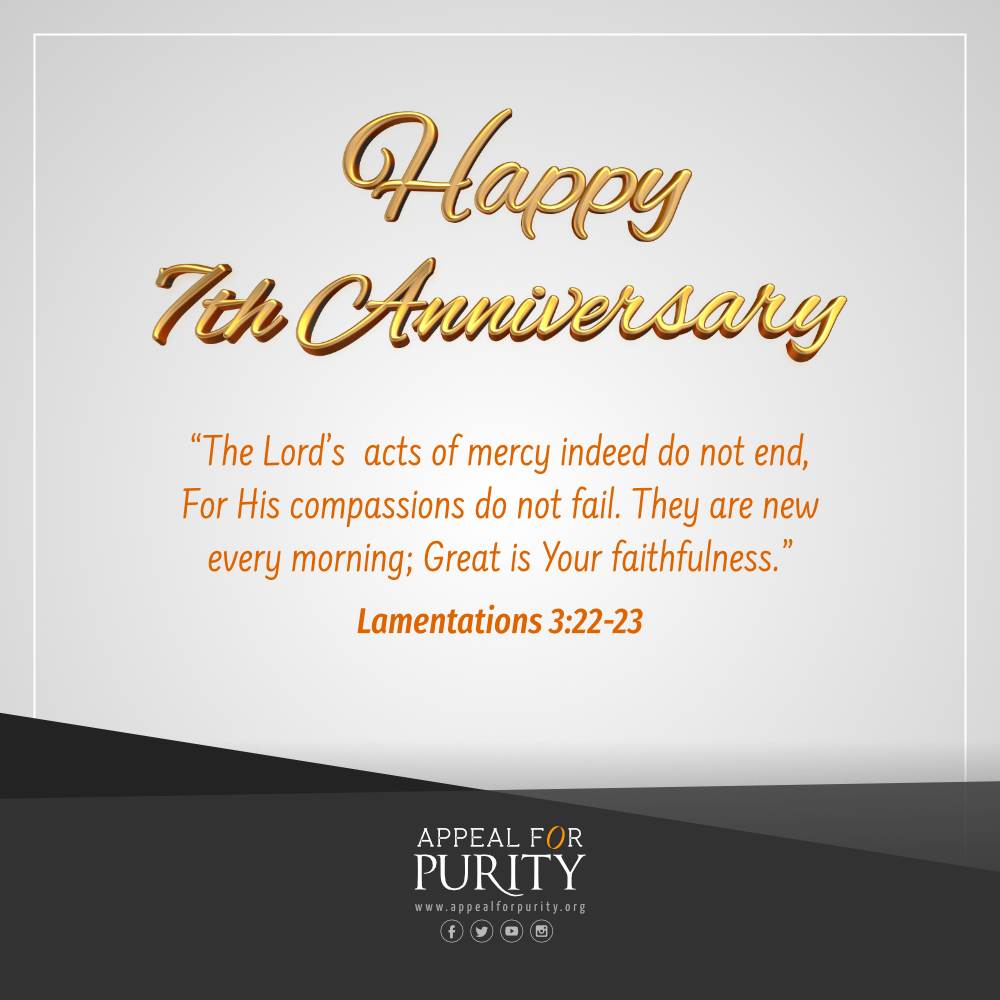 You have no idea how excited I am of this day. I was actually looking forward to seeing this day. Praise God!
Saturday, October 31, 2020! 
I saw this day, isn't God a good God? Yes, He is!
Seven years ago, Thursday, October 31, 2013, I posted my first short note on the Appeal for Purity Facebook page. Then soon after, the website followed and the rest is history. 
Many people thought I would quit within a week. Why? They didn't know and see who was with me. 
Not only God, but my kind, loving and caring husband and my three beautiful children have also been with me all along as my allies! Oh, LORD, how can I thank You enough for these beautiful people! I don't know!
Sure, the journey was challenging but God! Oh, hallelujah, but God stood with me whispering into my ears, Do not fear. I am with you!
"You will make known to me the way of life;
In Your presence is fullness of joy;
In Your right hand there are pleasures forever." Psalm 16:11
So, today is a celebration day in my house. We celebrate the faithfulness of God, the faithful presence of God and oh, the mercy and forgiveness of God! 
"The Lord's acts of mercy indeed do not end,
For His compassions do not fail.
They are new every morning;
Great is Your faithfulness." Lamentation 3:22-23
I want to thank all of you, especially those of you who began following Appeal for Purity (A4P) from day one and stack with it to this day. Oh, I don't know how to thank you. Thank you and may God bless you!
All A4P Facebook fans, A4P YouTube subscribers, A4P website subscribers, and all other A4P social media platform followers, thank you! May God bless you all!
My ever favorite chapter of the Bible throughout all these seven years has been this one and I pray you read, study and be blessed by it:
""Had it not been the Lord who was on our side,"
"Had it not been the Lord who was on our side
When people rose up against us,
Then they would have swallowed us alive,
When their anger was kindled against us;
Then the waters would have flooded over us,
The stream would have swept over our souls;
Then the raging waters would have swept over our souls."
Who has not given us to be torn by their teeth.
Our souls have escaped like a bird from the trapper's snare;
The snare is broken and we have escaped.
Our help is in the name of the Lord,
Who made heaven and earth." Psalm 124 NASB
Again, Happy 7th year anniversary to this beautiful ministry called, Appeal for Purity! ///
P. S. And Happy Reformation Day! October 31, 1517.