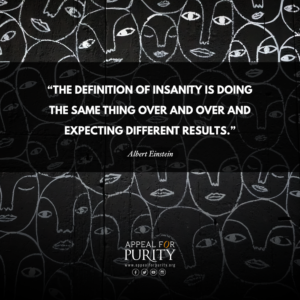 A4P Guest: How can I stop watching porn?
A4P: For how long you've been watching?
A4P Guest: For 9 years now.
A4P: Are you a believer in Jesus Christ?
A4P Guest: Yes. I received Jesus Christ when I was seventh grade.
A4P: What grade are you now?
A4P Guest: Second year university student in Ethiopia.
A4P: What did you do so far to stop watching porn?
A4P Guest: I fasted and prayed, sometimes crying the whole day and night, praying to God.
A4P Guest: For God to miraculously cut this addiction from me. And I also went to Prophet "- – " church and he prophesied on me and I was healed but it came back after two months and I went back to him and he told me that I needed to hold on to my healing by faith, otherwise it won't stay.
A4P: So, are you holding on to your faith?
A4P Guest: I am praying and fasting hard. I am crying now writing this to you. What should I do? I believe in God and I believe God can do miracles.
A4P: What else did you try, other than praying, fasting and crying before God? And going to prophets?
A4P Guest: I am still waiting for God to answer my prayers. So, I am still fasting and praying.
A4P: And you had been doing this same thing every day but you are expecting a different result might happen one day?
A4P Guest: I come to you so you can pray for me. Since you are in this ministry, your prayer may break this bad addiction from me forever.
A4P: And you want me to fast and pray and cry before God on your behalf?
A4P Guest: Please help me. God may answer your prayer.
A4P: Why did you think that God would hear my prayer but not yours? You think I am more loved by God than you?
A4P Guest: I don't know. Maybe my sin is too much.
A4P: You reminded me of the definition of insanity that I've heard a long time ago: "Doing the same thing over and over and expecting different results"
I have only one advice for you: Go back to your Bible and read and study it. Learn how much God loves you and the price He paid to bring you back to Him. Go to a church where the ministers are people of God who teach, believe and "LIVE OUT" the teachings of the Bible (that doesn't mean, people who do miracles, prophesy on people and drive BMW) but people of God who live for the glory of God and who know how to read and interpret the word of God. Build intimate relationship with the "MEN" of that church and pray with them. Tell them what you told me and ask them to help you. And your healing may come as the word of God says:
"Therefore confess your sins to each other and pray for each other so that you may be healed. The prayer of a righteous person is powerful and effective." (James 5:16)
Then, help one another in prayer, confessing each other's sins. They too might be fighting against porn and/or other stuff. I mean, from all the men, who is not fighting against porn these days? Unless they are liars.
Then create an exemplary Christ-like men fellowship, men who pursue a sexually pure life holding each other's hand.
"Flee the evil desires of youth and pursue righteousness, faith, love and peace, along with those who call on the Lord out of a pure heart." (2 Timothy 2:22)
As you believe in miracles, believe also in process because God of the Bible is the God of process. He didn't drop Jesus to earth from heaven. Remember that process always. If that is the case, why do you think that he will make you a spiritually matured man by miracle as if dropping you from heaven? He's never done that with anyone and He won't start with you. Don't fool yourself. A sexually pure life is a life of a spiritually matured person.
Please think. Just think. Re-read what I wrote you and think deep. I know you can since you are a sophomore in university, a young man with a bright mind. ///