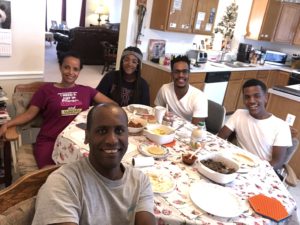 Hope you all had a wonderful Christmas yesterday. My family and I had an awesome one, praise God! (If you didn't celebrate Christmas yesterday, I hope you had a wonderful Tuesday.)
Yesterday morning, before we opened our Christmas gifts, my family and I decided to eat light, somehow westernized Ethiopian breakfast and when we finished eating, my kind hubby took a selfie picture of us. None of us were serious. We all were goofing around. I personally didn't know that there was actually a picture of those funny moments until now. Well, there is and I love it! So, I want to share it with you all.  
Yeah, this is the church I gladly die for! These are the people I gladly die for. This is the church I labor day and night for, with joy and gladness in my heart, knowing that I am working with God.
Are you confused when I say "the church?" Don't be.
As a cell is the smallest unit of a body, so is a family for the church of Christ and the society as large. If a cell becomes cancerous, it has a capacity to put to death the whole body. The same can be said about the relationship between a family and the church of Christ (and the family and the society).  
The church God desires to see, according to His word, is the church where the man of the house (the husband and the father of the children) submits to Jesus Christ so that he'll be the leader, the shepherd, the servant and the high priest of the church; the woman (the wife and the mother of the children) submits to the leadership of the man and respects, honors and fears him because of his call to be the number one responsible person for everything that happens in "that church," then the children submit primarily to the man and the woman (their parents) and honor and respect them as they teach them to be true disciples of Jesus Christ before they turn 18, go out and build their own churches. (Genesis 3:9; Ephesians 5:21-31; 1 Corinthians 11:3)
The day I learned this truth about a family being the cell, the building block of the church of Christ, from the Bible, I looked at myself, Missy, and realized how incompetent I was (still am) for the call. I mean, looking at the call of a woman and looking at my tendencies, I cried before God just like Moses, Please, LORD, not me; find somebody else. (Exodus 4:13) Then I made it my every morning routine to fall at the feet of Jesus Christ, asking Him to make me the person He wanted me to be for the health and well-being of this "church." Sitting at Jesus' feet is the only confidence I still have because only "Jesus in me" gives me hope for this "imperfect church" to bring glory to the Perfect God. (Colossians 1:27)
Knowing the truth of God around a family, I don't pray for my kids to be doctors, engineers and rich business people. I believe there is nothing wrong with that prayer as long as everything is laid down under the lordship of Jesus Christ (means to bring praise and glory to God); but my prayer for these three nations God brought into this small church is for all of them to go out and be a blessing to others mainly to the church God is going to build in and through them.
Awwww! How I love to see this picture of "the Church" Christ Jesus died for!
Well, me and my family are not the perfect example of what the biblical church should be. I am glad that Jesus didn't come for the perfect family but for "the imperfect ones" like us.  Praise God! God sent His Son, Jesus Christ, to heal the sick. (Mark 2:17)
So, looking at the picture I posted, let me introduce you to the members of this small church: The man of the house, my kind hubby, my Berhan. He is the one who teaches us biblical doctrines because a church without a doctrine is called a dead church. He is the high priest who shows us the way of the LORD by his life's example.
Then me, Missy
☹️
, to tell you the truth, I'm still trying to figure out a specific role that defines my role in this small church. But I think I am "the facilitator" of whatever the man of the house wants to do in this church. Oh, yeah, I sometimes give the man of the house a hard time desiring his place
?
?
?
, may God forgive me. (Genesis 3:16b)
Then the young man you see sitting in the middle, Abel, 20 year old young man, is, well, I call him Pastor Abel. Do you know why? He is such a humble person who strives to teach the youngsters how to follow Christ by his life's example and all the members of this small church call him "Walking and talking Bible" because when we forget a verse, guess who we turn to? You Guessed it!
Then a strong, sensitive, intelligent and creative young lady you see next to me is Lydia (18). Her conviction to live for the glory of God literally gives me Goosebumps. Oh, she is a very tenderhearted person and the complete opposite of her mama. Just imagine the condition of this church when these two women are fighting
?
! Go figure!
In short, if Lydia was not created in this church, I don't know what kind of color this church would have, probably a dull gray or no color. Seriously! She is an amazing woman of God who seasoned this church in a special way so the church gets some kind of shimmering bright color.
Then the young man next to the man of the house is, oh my! I don't know how to express this very kind and sensitive young man (16). Yes, he loves his mama so much that he is her advocate and lawyer 24/7. In his presence, you can't convict his mama of any wrong doings. If his mama whispers into his ears saying that she is the one to be blamed, he gladly takes the blame or convince you that his mama is always innocent. And the members of this church learn to think hard because of this young man's hard biblical questions such as, "Why did God put the tree in the garden while He knew that Adam and Eve would eat it?" No joke with him! He loves biblical answers but he also appreciates answers backed up by research findings. So, you can't say to him like, "Homosexuality is bad for the society." He asks, "Why? Just because you are not a homosexual?" Oh, how I love to hear his questions!
Do you notice what I said, "How I love his questions?" Well, I don't dare to answer his questions because too complicated and hard for me. The two men, the man of the house and the pastor, jump in and start to dialogue with him.
Me? I just sit and learn a lot from these beautiful people.
So, if I say to you, "I gladly die for this church," will you be surprised?