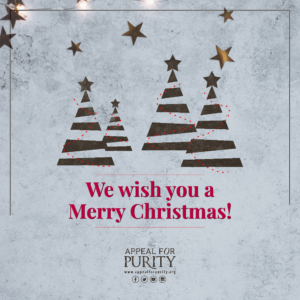 From my family and I, Missy, and from the whole Appeal for Purity team, we wish you a merry Christmas to all of you who are celebrating Christmas today.
"For to us a child is born,
and the government will be on his shoulders.
Wonderful Counselor, Mighty God,
Everlasting Father, Prince of Peace." (Isaiah 9:6)
What is the name of the Child given to us?
Jesus Christ, King of kings and Lord of lords!
"Salvation is found in no one else, for there is no other name under heaven given to mankind by which we must be saved." (Acts 4:12)
Jesus Christ is the only Name given by the Creator of the Universe to save mankind. None other! ///