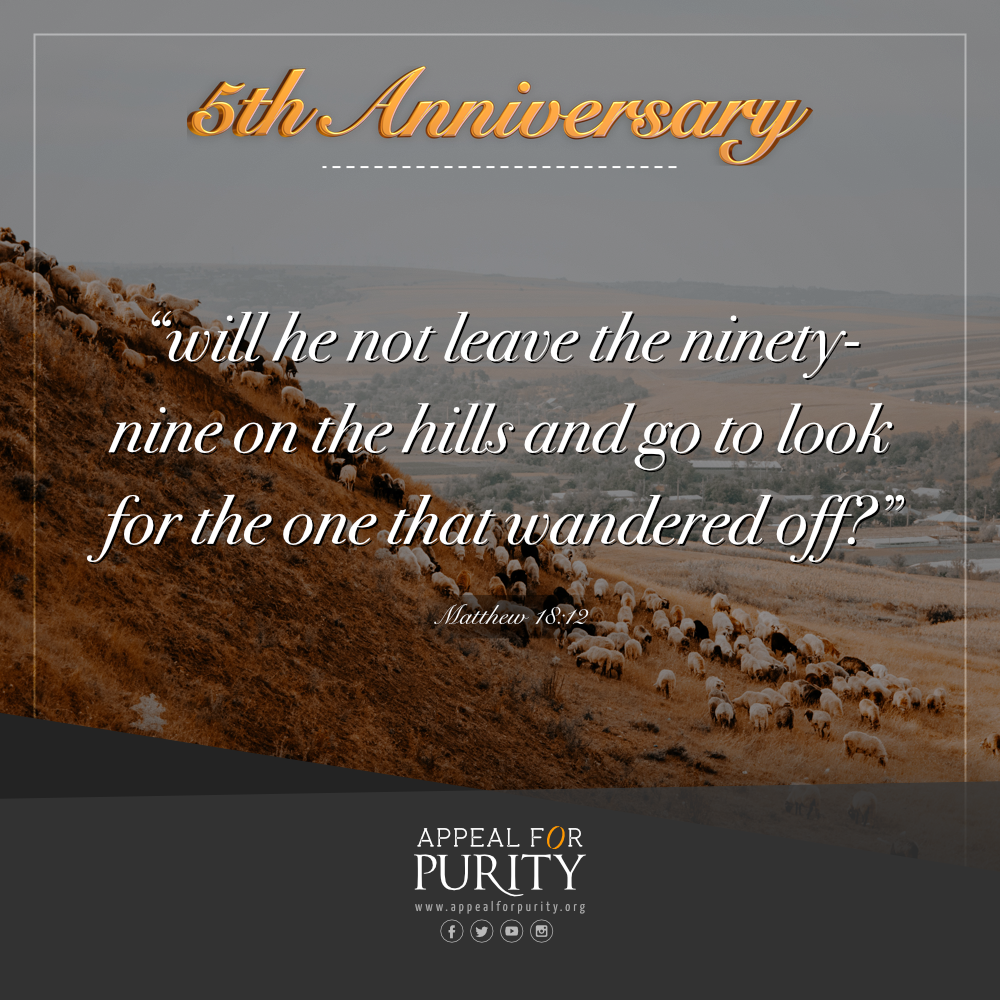 Happy 5th year anniversary to Appeal for Purity!
Yes, time flies! I feel like yesterday that I published the first post on this page on Thursday, October 31, 2013.
(If you run into this post and don't know what is going on, well, we are celebrating a seven-day 5th year anniversary of this ministry. The actual date of the anniversary is on Wednesday, October 31, 2018.
I wanted to celebrate this anniversary for seven days sharing with you every day for seven days at least one thing God had thought me through this past five years. Today is the fifth day.
I know, I am writing this late today because this weekend had been one those tough weekends. At least three people I know departed from this life and went on to the other one for eternity. I lost my favorite uncle, Ranger Teshome Mathias Helet-work. I wish I could share his picture with you but I am not emotionally ready to do that. Just pray for the whole family please. One of my friends lost her big brother and the other one lost her husband for cancer. All these things happened between Friday and today. For all who are going through similar life circumstances, may the Holy Spirit comfort you! Death is not an easy thing to deal with especially when it takes away our loved ones. May God comfort us all and help us to accept the reality of life.)
So, before the day ends, let me share with you one of the most important lessons God had taught me through these past five years while working in this wonderful ministry called Appeal for Purity.
Let me start with one of my favorite parables of Jesus, "the parable of the wandering sheep". Oh, how I love this parable! Read it carefully please:
"See that you do not despise one of these little ones. For I tell you that their angels in heaven always see the face of my Father in heaven. "What do you think? If a man owns a hundred sheep, and one of them wanders away, will he not leave the ninety-nine on the hills and go to look for the one that wandered off? And if he finds it, truly I tell you, he is happier about that one sheep than about the ninety-nine that did not wander off. In the same way your Father in heaven is not willing that any of these little ones should perish." (Matthew 18:10-14)
I always knew this parable by heart but it took me a while to get what God wanted me to get.
A worker in the Kingdom of God's Son, Jesus Christ, should have the same mindset as Jesus Christ. What mindset is that? A mindset or a heart that runs after a wandering sheep.
I mean, think about it. It is so cozy and comfortable to be among the ninety-nine. You feel accepted and appreciated, loved and comforted and warm and safe too. Who cares about the one who willingly wandered off from "the herd?" And if you run after that wandering sheep, it is not going to receive you with joy. It may run as fast as it can so you won't catch up with it.
This sheep is wandering off thinking that it may end up getting a better grazing land. It is deceived by what it feels, sees and touches and forgets the reality.
The reality that its enemy is actually around, waiting for a wandering sheep to devour.
"Be alert and of sober mind. Your enemy the devil prowls around like a roaring lion looking for someone to devour." (1 Peter 5:8) – (May God helps us all to hide this verse in our hearts so we don't drift and wander off.)
So, all the workers in the Kingdom of Jesus Christ have to have this mindset that they should always think about a wandering sheep because Jesus Christ is often found there, a bit away from the ninety-nine, looking after that wandering sheep.
What a loving God we have in Jesus!
As a worker in the Kingdom of God, I first thought that I have to do that "running after the wandering sheep" thing all by myself. But I quickly realized that wondering sheep are only visible to the Spirit of God. So, all I have to do is to surrender my will to Him. For example, every time I get up to stand behind the pulpit or write on my laptop to publish a message on social media like what I do now or sit in front of a camera to make a video message, I pray, "Abba, let this message find that wandering sheep."
Guess what? This prayer felt a bit weird first but later I learned to love it because I began hearing testimonies after testimonies. From who? Guess from who? From that wandering sheep! May the name of Jesus Christ be praised forever!
So, young people, who knows? Tomorrow might be your turn to be a full-time worker in the Kingdom of God. If you are going to be one, make sure you always be on the lookout for a wandering sheep. Whenever you feel tooooooo comfortable sitting among the ninety-nine, remember that you are missing the heart of the King, Jesus Christ whose heart is often after that one wandering sheep. 
May God reveal to you what I try to share with you in this post.  ///