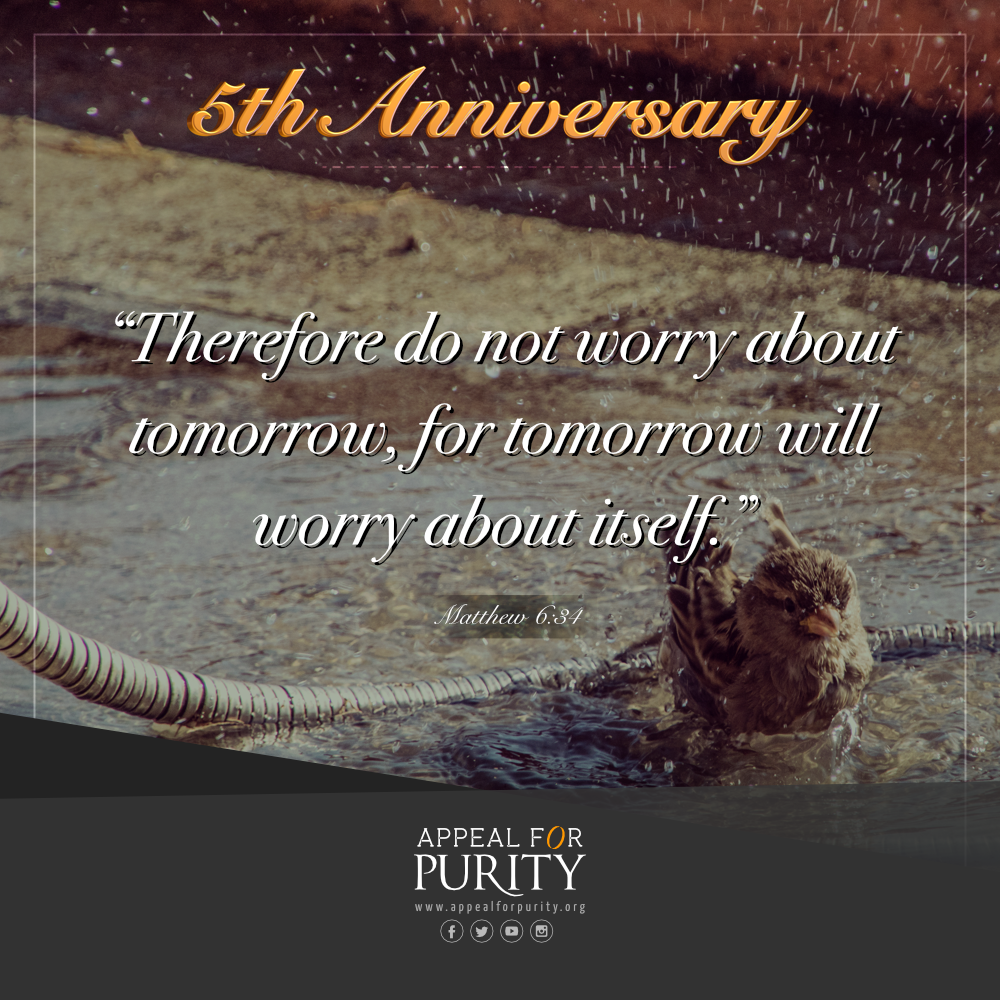 Today is the fourth day of Appeal for Purity's 5th year anniversary seven-day-celebration. If you run into this post today, you have three day worth of posts to read and catch up with us. The actual anniversary day is on Wednesday, October 31, 2018.
Thank you everybody for celebrating this wonderful anniversary with me.
I've been sharing with you some of the spiritual things I learned through these past five years since last Wednesday. And today, it is the fourth day of celebration.
For today, let me share with you one Bible verse that leads me directly into my message:
"Therefore do not worry about tomorrow, for tomorrow will worry about itself. Each day has enough trouble of its own." (Matthew 6:34)
I knew this verse very well but I didn't know the exact message. 
When you get a chance, read Matthew 6 verse 25-34 carefully. God is saying only one thing in this passage even if this one thing is described in many different ways. That one thing is:
Jehova Jireh – "The LORD will provide."
"The LORD will provide" had been my belt of truth through these tough five years. When I get paralyzed with worry, I buckle my waist with this "belt of truth" and start running again. The truth itself gives me strength to get up and run again because the Name of God is my strong tower.
"The name of the LORD is a strong tower; The righteous runs into it and is safe." (Proverbs 18:10)
So, whenever I worry about tomorrow and anxiety and fear threaten to ruin my life and ministry, God taught me how to run into His name and be safe. 
When I get nervous and don't have any clue as to what to do next, I run into "Jehovah Raah" (The LORD is my Shepherd) and be safe. When my enemy condemns me and shame and guilt try to swallow me alive, I run into Jehovah Tsidkenu (The LORD is my righteousness) and be safe. When fear and worry scares me in the middle of the night, I run into Jehovah Shalom (The LORD is peace) and be safe.
God is His name, and His name is God! Amen!
Yes, I am still learning how to run into His name and find peace, rest, joy and safety. 
What about you? Do you run into the name of the LORD when the going gets tough? ///