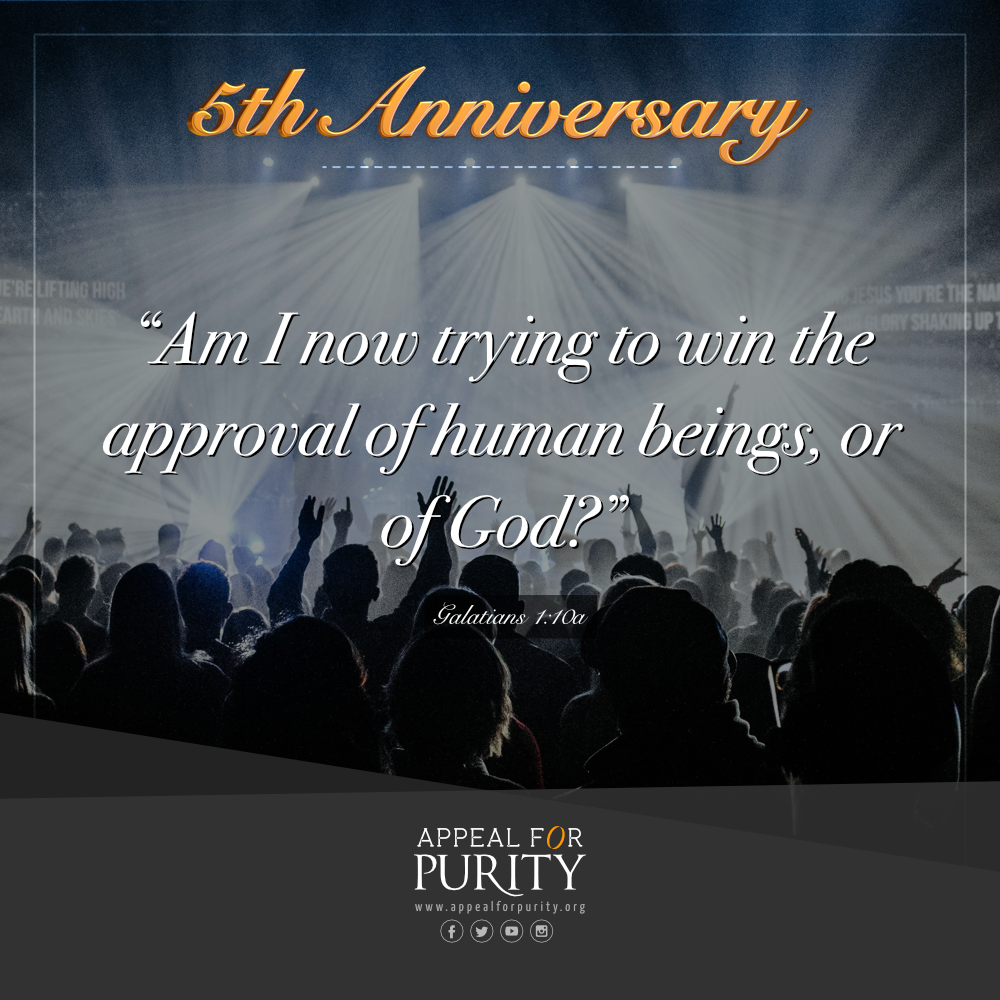 Today is the third day of the seven day celebration of Appeal for Purity's 5th year anniversary! October 31 is the exact anniversary day! If you haven't read since last Wednesday, you have three posts to read and catch up with us.
Thank you guys for celebrating this anniversary with me. I really appreciate you!
So, here is my message for today, the other thing I learned from working in this ministry for last five years:
You know, there are many traps in the path of the child of God. One of the easiest traps I've come to learn very well about is the desire to please others; the desire to receive as many thumbs up (likes) as possible on social media; the constant desire of counting the number of likes and shares and reading positive comments such as, "God bless you!" "You are our blessing from God!"
Unless I deny my humanness, I can't say that many likes and good comments won't give me a boost to come back to the page to do what I did the previous day.
But through time, God had shown me how this same seemingly innocent and natural desire can actually be a trap for me.
If my goal and purpose to be on social media is to please many, to get as many likes and shares as possible, I can't please God even for a second.
Paul posed this question: "Am I now trying to win the approval of human beings, or of God? Or am I trying to please people? If I were still trying to please people, I would not be a servant of Christ." (Galatians 1:10)
This is one of those Paul's famous rhetorical questions, questions that make you stop reading and think about the subject matter, not twice but for several times. But at the same time, Paul kept the balance of his message when he writes this: "for we have regard for what is honorable, not only in the sight of the Lord, but also in the sight of men." (2 Corinthians 8:21)
Sure! Whatever we do or say has to be approved by God as well as by two or more people who we respect and hold in the utmost dignity and honor in Christ Jesus. If it is disapproved by them and the word of God, it is better for us to take time with God and search our heart because the Bible says, "The human heart is the most deceitful of all things, and desperately wicked. Who really knows how bad it is?" (Jeremiah 17:9 NLT)
"Who can detect his own mistake? Cleanse me from hidden sin." (Psalm 19:12 ISV)
"Who really knows how bad it is?" – "Who can detect his own mistake?"
The answer for both of these questions is no one but God, the Spirit of God, the word of God. We can never speak about the righteousness of our heart thinking that our heart will always remain to be kind, humble and all round spiritual because it can easily be deceived.
"For the word of God is alive and active. Sharper than any double-edged sword, it penetrates even to dividing soul and spirit, joints and marrow; it judges the thoughts and attitudes of the heart. Nothing in all creation is hidden from God's sight. Everything is uncovered and laid bare before the eyes of him to whom we must give account." (Hebrews 4:12-13)
Amen! So, I gladly bring myself to the word of God, to the Spirit of God, to Jesus Christ so He can search me.
So, it is my habit to come to God and say, "Abba, search me. Am I pleasing You or others? Am I on social media for Your glory or for my glory?"
Many new research findings are now showing that working hard on social media to meet our strong desire to get more likes and shares may cost us a lot. (Dr. Archibald Hart and his daughter – Dr. Sylvia Hart Frejd – they co-authored a book called, "The Digital Invasion" – I didn't read this book yet but I heard their full interview regarding their book. Phenomenal! BTW, Dr. Hart is the author of the best book called, "The Sexual Man." I recommend this book to everyone who read this.)
When we receive likes/shares, if we are so much into getting as many likes/shares as possible, whenever we receive likes and/or shares, our brain secrets a hormone called dopamine into our bloodstream, a hormone also known as "the feel-good hormone", the hormone that many of us can easily get addicted to (it is like shooting a bolus dose of cocaine directly into our bloodstream) and when we don't get any drop of dopamine, we go an extra mile to get it; we post anything [regardless of our moral values and biblical life principles] that can earn us many likes/shares so that we enjoy the "dopamine shot!"
Wow! What do we know? Right?
"And He gave them their request; but sent leanness into their soul." (Psalm 106:15 KJV)
So, what are Dr. Hart's and Dr. Frejd's findings and the word of God saying to me?
Watch out! Be very careful! Be sober all the time!
So, I often tend to ask Missy this: "Okay Missy. Let's talk. What is your desire today, what is the desire of your heart that you're trying to meet when you publish "this post?""
A very tricky question to ask to my deceitful heart but very important one and it is very important that I stay true to myself for the sake of myself.
Do you get what I am trying to say here? I hope and pray you do. You see, we all, especially Christians, are blessed by this outlet called social media to spread the good news, "the Gospel" to the whole world but this same outlet can be a trap for us to miss our way, goal and purpose in our journey as Christians and become entertainers of this dark world, pleasing people who don't fear God and don't even care about God nor the word of God (Jesus Christ).
God forbid that I do that for a second. And for all those seconds, minutes, hours and days I missed my way, my goal and purpose, I ask the mercy of God through Jesus Christ. I know, the merciful God will grant me mercy and He helps me to guard my heart from this same sin in the future. (Proverbs 4:23)
So, I strive to remind my soul as often as I can that my main purpose to be on social media is not to make this dark world happy or to please "everyone," including my sinful flesh but to proclaim the truth of God and please my brothers and sisters in Christ and my God by calling others to Him through Christ Jesus.
Then only then may I hear my God saying this to me: "Well done, good and faithful servant! You have been faithful with a few things; I will put you in charge of many things. Come and share your master's happiness!" (Matthew 25:23)
When we know how deceitful our heart is, we know for sure that ministering to others is not an easy thing to do, especially on social media. May God save us all from our deceitful hearts. ///