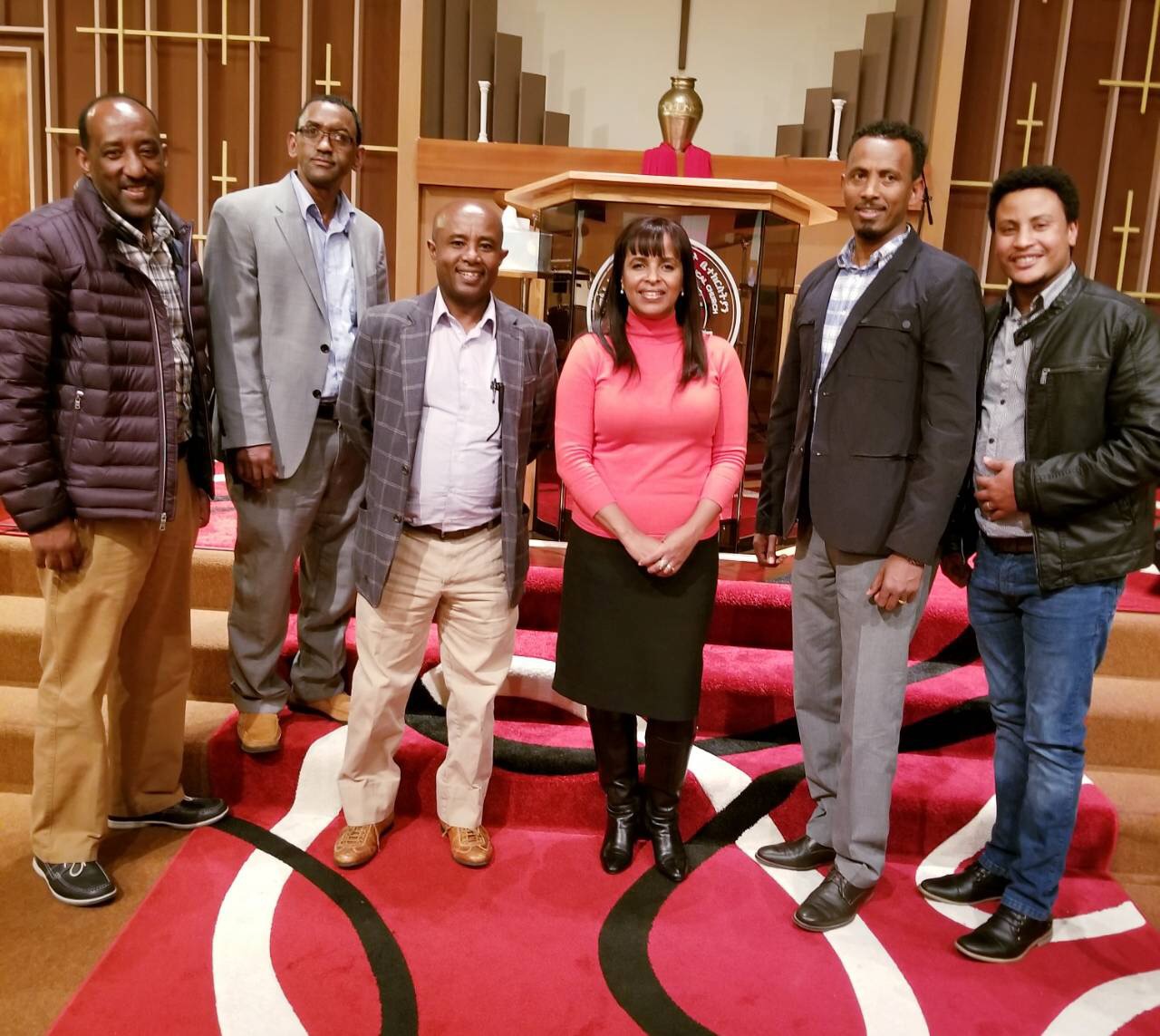 But whether there is snow or not, I am always happy to be back to Maryland where my loving husband and kids are giving me that warm welcome!
Yes, I love to be back home!
I had a wonderful time with the Ammanuel Ethiopian Evangelical Church (AEEC) folks!
Before I say anything else though, I would like to thank the elders of AEEC (going from right to left on the pic): Gezahegne, Yehesew, Tsehaye, Mulatu, Alemayehu and Eyosias – (Eyosias wasn't in the church when we took this picture.)
Thank you so much brothers for inviting me over to your gathering. May God continue blessing you and your hard work in the Kingdom of God!
And special thank you goes to Gezahegne, one of the church elders, who had worked with me to finalize the schedule and other details! Yes, he was tirelessly replying to my endless text messages. Appreciate you very much Gezesh!
I also would like to thank Fitsum who worked very hard to convince me to travel to Portland
?
. He was one of the previous church elders of AEEC. You can imagine how long it took us to plan out this conference, two to three years. Thank you Fitsumyie for putting up with me

?

.
And I would like to say thank you to the whole congregation, and people who drove from the neighboring cities and states such as Seattle, WA, to just sit and listen to me for hours and hours!
Yeah, people from west coast can listen for hours without making any face expressions and without responding to the speaker
?
. Did I ever tell you that? Oh, yes!
The first time I traveled to west coast, I thought the whole congregation was sleeping. Then I learned later that they were not sleeping. They were just listening quietly because they are not from East Coast, but West Coast, LOL!
Anyways, I had a wonderful time at AEEC and I love their gorgeous weather.
God willing, I will share with you all a clip of one of my messages I shared with AEEC folks.
Have a blessed Wednesday! ///