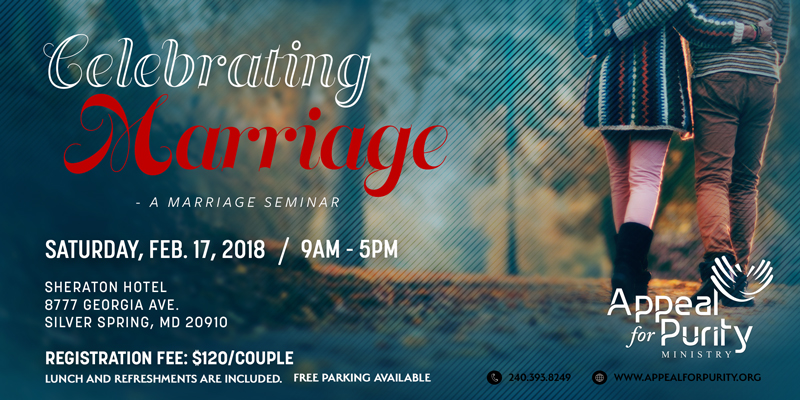 Valentine's Day is just around the corner, can you believe this!
I'm telling you! 2018 is rolling faster than we think!
So, once again, Appeal for Purity is throwing a wonderful program for married couples.
When?
Saturday, February 17 from 9am to 5pm at the Sheraton Silver Spring Hotel.
I am very excited and thankful to God for giving us another chance to invest in the lives of young married couples.
So, if you are married and live in the DC metropolitan area, I invite you to come over and have a wonderful time with us. If you are not married but know married people who can benefit from this program, please let them know.
Make sure you register as soon as you are able to because we only have limited seats and the registration will only be open for three weeks (or less if the seats are all taken) and once the registration is closed, we cannot open it back. I know, few couples missed this program last year because they came in at the last minute. I hope and pray that nothing of that nature would happen this year.
To encourage early registration, we make the ticket $5 less for those who are going to register before February 4. The ticket will be $120 after Sunday, February 4.
Should you have any question, reach out to me via email: anappealforpurity@gmail.com
Or, text me at my cellphone: 240-393-8249.
Here is the link to register online: https://www.eventbrite.com/e/celebrating-marriage-tickets-41921035947?utm_source=eb_email