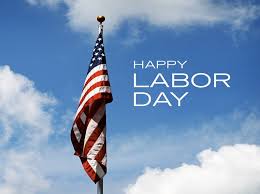 Happy Labor Day to all of you!
For those of you who are not celebrating Labor Day today, Happy Monday!
Labor Day is a federal holiday here, means, my hubby and kids are home. Well, our older son is already out of the house and he is not planning to visit us today. My dearest, it is tough to be a mother! It really is! I missed him a lot. I got up in the morning today and planned to send him a text message, asking him to come but my hubby said, with a serious look, "Let the young man live his life. Leave him alone."
Yeah! It is tough to be a mother.
Oh, by the way, I am in Maryland. It is always good to be back to Maryland! It is always good to be home with my hubby and kids! Praise God!
As most of you know, I was in Addis Ababa, Ethiopia for the last six weeks. I went there because I was invited to speak at the Unique 7000 Church but on the third week, my dad passed away.
In hindsight, it became very clear for me that it was actually God who had planned my trip to Addis for one single purpose, i.e. for my dad to crossover from death to life!
Praise God!
During my stay in Addis, my dad departed from this life but few hours before he took his last breath, my dad welcomed Jesus Christ into his heart.
Oh, I wish all of you have seen those glorious moments. It was the most exhilarating and thrilling moments I could ever see in my life. I've literally seen my dad's face turning from dark and ashy color into a beautiful, shiny and glowing color. I will never forget those moments as long as I live. God, with His mercy and grace, let me see everything unfolding before my very eyes.
Now, in the middle of my sadness and sorrow of missing my dad, I see my brain replaying those incredible moments again and again, trying to quieten my soul. May the name of Jesus Christ be praised forever!
Yes, "Where, O death, is your victory? Where, O death, is your sting?" (1 Corinthians 15:55)
Where????? No victory to death because Jesus Christ destroyed the sting of death, which is sin, on the cross and rose from the dead. So, death can't win over those who belong to Jesus Christ!
What a joy, what a glorious hope we have in Jesus Christ!
Now I live with this hope knowing that I will see my dad again, not only seeing him but living with him forever!
Four days after my dad's funeral service, I began my teaching program at the Unique 7000 Church (U7000). I first ministered to married couples, then, I spent a long time with young adults and wrapped up the program addressing the general assembly on Sunday morning. What a wonderful opportunity for me to invest in the lives of hundreds of people! Just awesome!
So, I would like to say "Thank you" to all the leaders of U7000 Church, Pastor Abby and his wife (Kidist), Pastor Ephrem and his wife, Pastor Natty and his wife, Pastor Nigussu and his wife, Pastor Beniam and his wife and Prophet Anteneh and his wife! Thank you my brothers and sisters for giving me this wonderful opportunity! Thank you for praying for me and my whole family as we went through the tough road of losing a loved one! Thank you for taking care of me from day one till the end as if I was literally sent by God to you. Thank you for helping me to release my book, Beyond the Fairy Tale (in Amharic) in Ethiopia; thank you for supporting me in every way possible, including financially, so the message of Appeal for Purity reaches to all Ethiopians and Eritreans. Thank you and may God bless all of you and your hard work in the Kingdom of God!
I know, there were many other people who helped me out too, people like Mesfin, Mengi, Beakal (a young, handsome man whom I abused a lot as I asked him to buy me a special cup of tea from one particular place – thank you Beakal) and all the young men and women in the sound system booth. You guys are just amazing! Thank you all for all your kindness!
My special thank you message goes to Kidist Tsegaye (Pastor Abby Emishaw's wife) for serving me in every way I ask, from giving me ride from one place to another to buying me black clothes that I could wear during my stay in Addis. Kidist, I don't know how to thank you enough! May God bless you abundantly! My dearest, I may one day forget your kindness but God, He will never forget it! Thank you for comforting me when I was sad and thank you for praying for me when I couldn't utter a word. Appreciate you very much!
Okay, let me go now and enjoy the Labor Day with my family. God willing, I will soon share with you a clip of my message I delivered at the U7000.
Before I pen out though, let me say this: My friends, none of us come out of this world without testing death. We all die, one by one at our designated day and time. But please, don't leave this life without inviting Jesus Christ into your heart. Just call on His name, then look for a Bible believing and teaching church and join the church. Grow in Him. The word of God says, "Whoever has the Son has life; whoever does not have the Son of God does not have life." (1 John 5:12)  ///