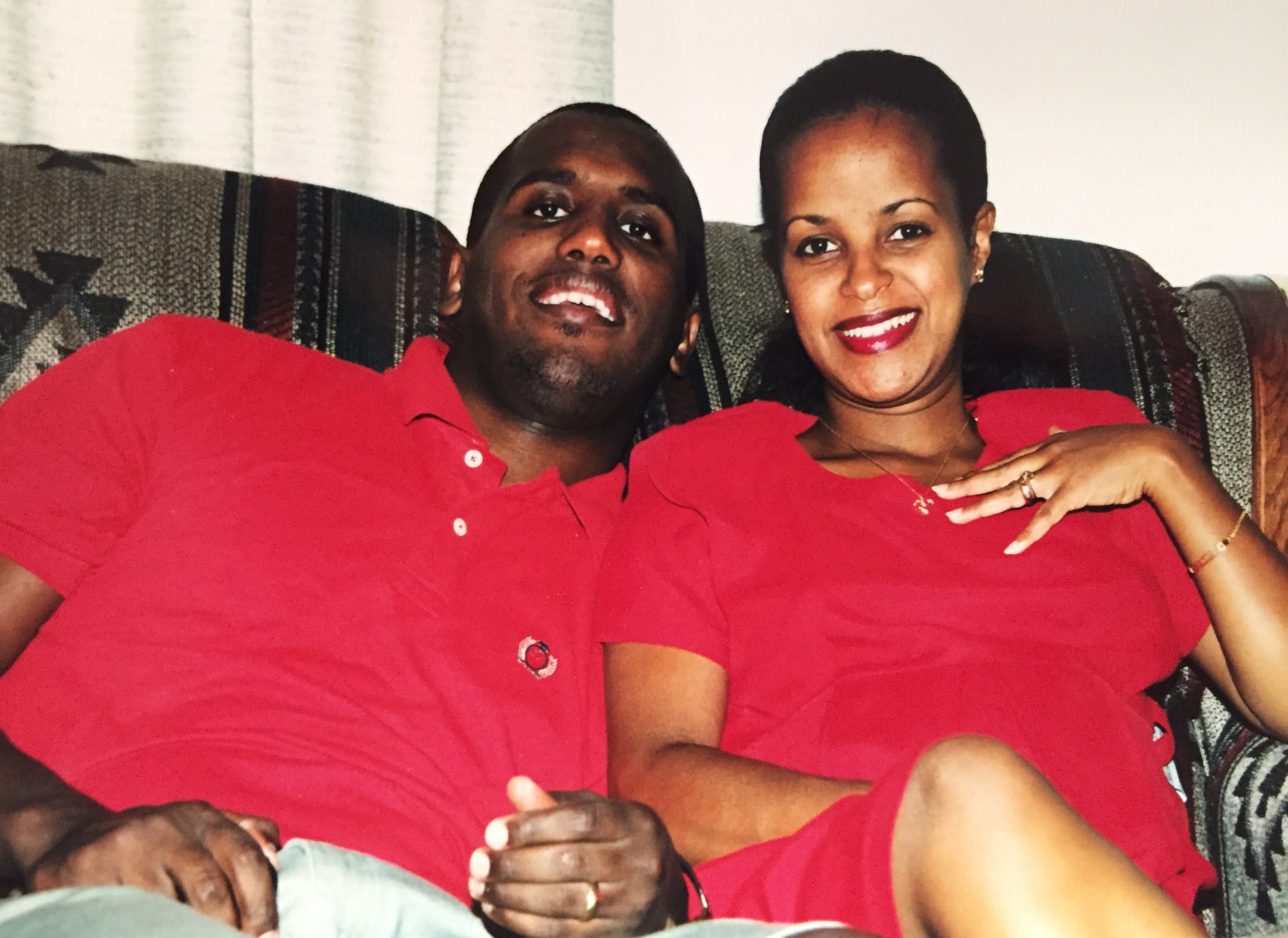 The fourth day of celebration!
My husband, Berhan, and I are celebrating our 20th wedding anniversary.
We got married on March 27, 1997. (I've been posting some stories related to our marriage since Tuesday. If you've missed any one of those posts, just scroll down and read each one of them.)
Thank you, everyone, for making our celebration exciting and colorful with your likes, comments and shares! Appreciate you all very much! May God bless you!
Today, I want to share with you how God saw us, Berhan and I, through a storm that hit our marriage for the first time.
You see, as a newly married wife, I rejoiced every morning for seeing my man lying next to me. Oh, yes, I was very happy (I still am). And my number one desire at that point was to give to the man I love a child. So, I got pregnant in the same year we got married (I think I got pregnant in May).
Let me tell you something: My pregnancy was not a small thing for us as well as our families. Berhan and I got married first, so, everyone's eyes was on us. "Are you pregnant?" was everybody's question. So, we wasted no time as we called and told everyone that we were pregnant. I still remember vividly Berhan's excitement.
"We're expecting our son/daughter! We don't wanna know the gender until we meet our baby! Yes, we can't wait!"
Oh, how can I forget those days? I can't.
Then after six weeks of celebration, I began to bleed heavily. We read about spotting a pregnant woman might have during pregnancy. So, we comforted each other saying that it was just spotting and it would stop soon; but my Berhan read more than I did and suggested that we visited my OBGYN.
So, we went together and the doctor heard what happened and examined me and broke the news. He told us that we lost our baby. I left the clinic, came home and fell on the floor. I refused to accept any comfort from anyone. I locked myself in my bedroom for three days. Berhan didn't know what to do with me. I said to him many times, "Leave me alone!"
Lying on my bed, looking at the ceiling, I remembered one story I heard when I was a child. It was a story of an older woman who was not married. I heard that she was married when she was young. However, because she had multiple miscarriages, the elders of the family decided to end their marriage and send her back to her father's home. Her ex-husband got married and had many children
I was terrified. I didn't want my husband to leave me but I didn't want him to be without children because of me either. (Remember, at this point, I didn't have any medical background.)
"No," I said, "I'm not going to let my husband go. I will pray and God will hear my prayers."
But I had some doubts in my heart that made my fears even bigger than they actually were. So, for the next 10 or 11 months, I began begging God to give me a child. Every month, I visited my doctor to see if I was pregnant. (It wasn't like today where you go to any drug store and get the pregnancy test kit for $10.)
All the nurses in that clinic knew me well since they saw me every month. I stopped praying kneeling on my knees; instead I began lying on my face on the floor and crying my heart out before God.
Oh, my tears are falling down on my face now because I still remember every bit of it. My! I praise God for wiping my tears away! My tears today are not tears of sadness but joy!
My doctor gave me some instructions to follow, as to how our bodies work and as to which day of the month that I had a high chance to get pregnant. The problem was my husband used to travel outside America. I used to be very frustrated whenever he had to travel. We tried and tried to no avail. Then after we prayed and tried for 11 months, my husband had to travel to Hong Kong, Britain and Germany to give training for three weeks. According to my doctor's instruction, the first week of those three weeks was the most crucial times but my husband had to go. I couldn't stop him nor travel with him. So, I cried on his shoulder and sow him off. Then three or four days before he came back to Maryland, I felt pain in my stomach and I ran in to my doctor's office. I remember how the nurse looked at me. Her look said to me, "Why don't you give up!"
I cried and cried in that office while I waited for my urine test result came back. There was no way for me to be pregnant as far as the calendar I was following. But the nurse came back to the room with a big smile and said, "Congratulations!"
Oh, saying "I was very happy" is an understatement! How can I tell you how I felt at that moment! Can any human language express my joy? No, it can't! I was in tears! I didn't want to share the news with anyone because I was scared to lose this baby again. I didn't call my husband either because I didn't want him to go through pain again either. So, I decided to suffer alone. (This is not a good decision and I won't advise anyone to suffer alone.)
But when my husband came back to Maryland, I decided to tell him, but not like, "Hey! Guess what! We're pregnant!" No! Not like that. I said in a very low voice something like, "I think I'm pregnant; but we shouldn't rejoice and we shouldn't tell this to anyone; the doctors have to do some testing."
My doctor didn't say that he had to do some testings, but I didn't want my husband to get hurt if in case something happened.
But, my Berhan, oh, may God bless him; he picked me up and kissed me said, "God will see us through this, Baby. Let's hang in there! Our God is a faithful God!"
We didn't tell anyone until I was seven months pregnant. But my belly announced the news later.
So, the picture you're looking at shows you our joy but at the same time, I hope you can see in the picture some of our fears that were buried deep down inside our hearts. I love this picture very much because it captured the moment as well as our emotions! Beautiful!
So, here is my message for today: The Bible says, "The rain came down, the streams rose, and the winds blew and beat against that house" –
Which house?
The storm hits both kinds of houses, the house that was built on the rock and the house that was built on sand (Matthew 7:24-27).
Every house, every marriage will be hit by a storm. This is something that can't be avoided in this life. There is no home and/or marriage that is immune from this storm.
But listen to the message of Matthew 7:25: A house that is built on the Rock, on Jesus Christ, on the Word of God, a house where Jesus is lifted up as King and Lord will get hit by the storm but will always stand still.
But we all are weak at times, aren't we? Even if we profess to know Jesus Christ and follow him, look strong and all, sometimes the storm hits us when we least expect it.
May His mercy and grace find us at that moment!
But I want to leave a piece of advice to young married couples here.
Yes, it is inevitable that a storm hits your home, your marriage and your life. So, you have to always be prepared for it.
How?
The Bible says, "Nevertheless, God's solid foundation stands firm, sealed with this inscription: "The Lord knows those who are his," and, "Everyone who confesses the name of the Lord must turn away from wickedness."" (2 Timothy 2:19 NIV)
And it says, "The Lord is far from the wicked, but he hears the prayer of the righteous." (Proverbs 15:29 – ESV)
A couple can prepare themselves to welcome a storm by seeking God and His righteousness, together as a couple! Yes, God knows those who belong to Him, those who seek Him. Even if they go through the valley of death, God will always be with them until the end of time. ///