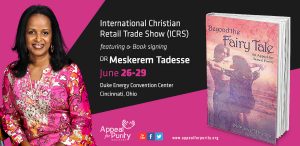 As you all know, I am traveling this weekend to Cincinnati, Ohio to take part in the annual International Christian Retail Trade Show (ICRS).
Well, I thought I could invite people over, but I learned that it is a closed convention, which means only those who are invited (mainly publishers, book authors and bookstore owners) and received a name tag are allowed to enter 
Please forgive me for misinforming you, but here is the good news.
One church in Cincinnati, OH is willing to give me from five to ten minutes to introduce "My Baby" (my book, "Beyond the Fairy Tale") to their Sunday morning congregation. Since I have to give my undivided attention to the convention, I couldn't take the opportunity to deliver a message on Sunday.
Anyways, here is the address of the church:
220 William Howard Taft Rd,
I will introduce my book to the Ethiopian/Eritrean congregation as well as to the American congregation. Both congregations are in the same building.
So, if you are in Cincinnati area, I invite you to come over to the Peoples Church and worship God with us – (it is not spelled as People's but Peoples.)
My book will only be sold at this church, not at the convention. ///
http://appealforpurity.org/2016/05/20/very-exciting-news/#more-4402