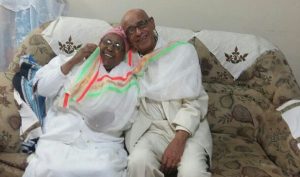 Happy Anniversary to the best married couple I know!
Happy Anniversary to my mom, Kessela Mengistu, and my dad, Tadesse Kifetew.
Praise God! My parents are celebrating their 56 wedding anniversary today!
The picture I'm sharing with you is the picture they took few hours ago. Aren't my parents beautiful!
Oh, how I love them! How much I treasure them! They are my ornaments. I wish I was good at writing a poem!
I'm their 8th child; but sometimes I feel like I am their only child. I know that is crazy.
The two most important things they both want me to do are: to pray daily and to honor and respect my husband; and I always strive to do that.
I don't know how I can thank God for giving me a chance to know and love my parents. Both of them didn't get this opportunity, but I did. So, I don't take this opportunity lightly. I always thank God for it.
I treasure every phone conversation I have with them. Whenever I travel, I call them and both of them bless me this way: May God go before you; may He cover you with His wings; may He give you the hearts and ears of the people you minister; may He save you from the evil one!
Oh, I'm very emotional now. I don't think I can keep on writing.
Mom and Dad, happy 56th wedding anniversary! I want you to know that I want you both to continue celebrating your anniversary every year! Please do that for me. I always want you to be in my life.
ኑሩልኝ! (Nurulegne – means, stay alive for me!)
Thank you for holding on to one another and to your marriage up to this day and for the days to come. Thank you for loving me as I am and thank you for supporting and encouraging me in what I do in the Kingdom of God. May the Lord Jesus Christ continue blessing you!
I just can't wait to see you both again! ///