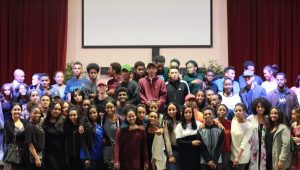 Praise God! I'm back to Maryland after I spent the weekend in Edmonton, Canada.
As I always do, I want to thank people who've worked hard in making this conference a success. Four Edmonton area local churches have a fellowship called "Evangelical Churches Fellowship in Edmonton, Canada." There are many people who are involved in this, pastors, elders and ministers of all these four churches.
I wish I could name each one of you but you are many.
"Thank you" so much everybody for inviting me over and making this conference a successful one. May the LORD bless you, your work and fellowship!
I also want to thank the video and audio crew who did a marvelous job. May the LORD bless you!
I also would like to say "Thank you" to everybody who came to the conference; especially the Appeal for Purity Ministries' fans/supporters/followers who are from different churches, denominations, and every walk of life. Wow! Thank you so much guys for coming out and worshiping God with us. You indeed supported and encouraged me. I appreciate you very much!
And as usual, I spent time with my favorite group of people, the Next Generation, the Young Adults. The young adults in Edmonton, their fellowship is known as Hybrid! Did you hear that? Yes, Hybrid and they indeed are "Hybrids!" They are dynamic and God-loving folks, the hope of the next generation.
I want to share with you one of the pictures I took with them. Unfortunately the idea of taking pictures came after almost half of them left. So, the Hybrid folks you see on the picture are not the only ones.
Do you know the number one thing I love about Hybrid? They are people from all nations. So, you find Ethiopians, Eritreans, Ethiopian/Canadians; Eritrean/Canadians, Canadians, young people from different African countries, Congo, Cameron and more. Yes, this is a glimpse of what heaven is going to look like. I love it very much!
If the editing process goes fast, we will upload a clip or two on our YouTube channel. So, if you haven't SUBSCRIBED to our channel yet, go ahead and subscribe and when we upload a video, you will be the first to hear about it: www.youtube.com/appealforpurity. ///