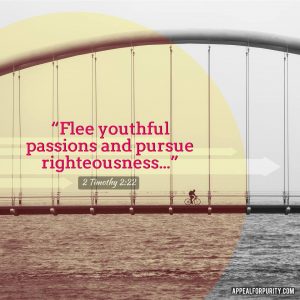 Righteousness is something we are called to pursue but lust is something we are called to stay away from.
Sometimes it seems as though leading a sexually pure life (not viewing porn and being engaged in solo-sex, not experimenting on sex and getting lost in the lust of this world) is something given to a few as a gift from God. But the Bible says, those who runaway from sexual immorality will stay away from it; and those who purse sexual purity will find it.
"Flee the evil desires of youth and pursue righteousness, faith, love and peace, along with those who call on the Lord out of a pure heart." (2 Timothy 2:22)
Both lifestyles are something we choose. Sexually immoral lifestyle can't take over our lives without our permission, without we pursing it.
In the same way, sexually pure life doesn't drop on us from heaven or won't be ours when someone lays their "anointed" hands on us. When choose it in a daily and hourly basis, it shall become ours.
We always flee from one as we purse the other.
We flee from sexual immorality when we pursue sexual purity; or, we flee from sexual purity when we purse sexual immorality.
Remember, we can't have both; at the same time, we can't live without having one of them. We can't. There is no "neutral-status" in this.
"Flee from sexual immorality." (1 Corinthians 6:18a) ///