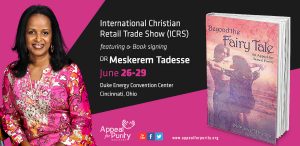 What can I say to God except to say, "May You alone forever be the King and Lord of my life!"
Yes! God is pretty much catching me by surprise almost every day! I praise Him!
After my first book, "Beyond the Fairy Tale," was released, I was informed by my publisher that my book got ranked first in Amazon in its class. Yes, that was a great success, praise God!
Now, my publisher, Deep River Books, invited me as one of their authors to take part in the International Christian Retail Trade Show (ICRS) to present my book "Beyond the Fairy Tale."
I know! "Excited" can't express my feeling right now. I'm thrilled and overjoyed by this opportunity. It is an honor and a privilege for me to take part in this convention with this excellent group of people. Yes, my book cover picture, in large size, will be hanged in the convention. That for me, in and of itself, is a dream come true. I mean, think about it. Even the thought of it all brings some tears to my eyes. I praise God for everything! My life was broken into small pieces but God put every piece of my life back together again and look what He is doing now! God is the only One who can bring beauty out of ashes! I'm speechless!
Christian bookstore owners around the world will be at this convention and I will have some interviews and book signing sessions as well throughout the four days of the convention.
So, if you live around Cincinnati, Ohio, I kindly ask that you come out and support me and "Beyond the Fairy Tale." If you don't live there but know someone who does, invite them on my behalf.
In the meantime, if you know any church in the Ohio area, please let me know their contact info (drop me in my inbox) so I will stop by at their church to introduce them to my "baby" (my first book).
I, so far, don't know any Ethiopian or Eritrean Christian authors who are invited to this convention by other publishers. I know I am the only one with Deep River Books. But if you happen to know any Christian Habesha authors who are going to be there, please let me know their contact info so that I can network with them; I'm convinced that writers are all different breeds and we need to network to grow and broaden our sphere of influence together.
If you are following the Appeal for Purity social media platform for sometimes but didn't order my book yet, I don't know how to say this: Please order this book! If you have young kids under your care, please, as a mother of three kids, I beg you to get this book. Let's redeem and rescue the next generation together from this sexually saturated society. Order your copy at the Appeal for Purity (A4P) website (www.appealforpurity.com/storefront) or, from A4P's Facebook page. ///
P.S. The address for the Duke Energy Convention Center is:
525 Elm St, Cincinnati, OH 45202
I'm so sorry but my book is not yet available in Ethiopia.