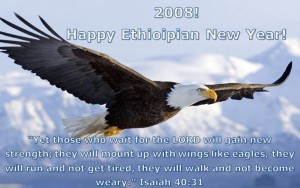 To all Ethiopians, I wish you all a Happy 2008, a brand New Year!
And, Happy Birthday to me!
I know, what a day to come to this life! I love it very much! My hubby was off today and he took good care of me. I thank God for him.
I thank God for putting all those broken pieces of my life together and making something beautiful. I continue to put my hope in Him alone because no one who hopes in God will be put to shame!
So, my wish and prayer on this Ethiopian New Year day is for everyone to come to know Christ and put their hope in Him alone!
Happy New Year! ///