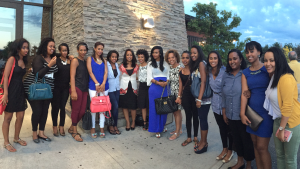 \
Yes, I had a wonderful and fantastic time at the Ethiopian Evangelical Church (EEC) in Ottawa! Praise the LORD!
I was overwhelmed by the presence of God throughout the program. Wow! How I love to witness instant change of heart in others because of the presence, the Word and Spirit of God! It is just awesome!
Well, as I always do, I would like to leave a "Thank you" note here to those people who made my stay in Ottawa an enjoyable and a successful one!
First, I would like to say "Thank you" to the Senior Pastor of EEC in Ottawa, Pastor Dereje H/Yesuse and his gorgeous wife, Gelila Kebede, for inviting me over. I appreciate you both very much!
I also would like to say "Thank you" to the leaders/elders of EEC who took part in the decision making process to invite me and A4P over! May the LORD continue blessing you and all you do for the Kingdom of God!
And my stay in Ottawa would have been a little different one if it wasn't for Dr. Fantu and Tsegahiwote. You two are amazing! Thank you for understanding my craziness in being late while you two were waiting for me and almost falling asleep in the lobby, lol. My! I'm always on time but I have no idea what got into me in Ottawa, lol. Anyways, thank you so much for putting up with all my excuses not to be on time. You guys are funny too. Thank you for making me laugh!
Of course, I would also like to say "Thank you" to all my fans who came to the conference from another church and to all the people of EEC in Ottawa for embracing me and my messages!
Amazingly enough, without exaggeration, 85 to 90% of people knew me and A4P (virtually) and heard most of my YouTube messages. Oh, how I love to meet my fans in person!
From Friday to Sunday night, I ministered to the general congregation, married couples, singles, and to my favorite group of people, TEENAGERS! My dearest, the teenagers in Ottawa are hungry for the things of God! These young people sat, not moved, for two hours when I taught about sexual purity (there was like a 15-minutes break in between but they came right back)! They are exceptional group of people! May the Creator of heaven and earth increase their hunger and thirst for more of Him!
Well, I want to share with you all one pretty picture I took in Ottawa. I took many pictures but this one is an exceptional one for me. Sunday night, these young people invited me for dinner and took me out to a nice restaurant and half of them are singles, "not married" (just to make the point here). They all are beautiful from the outside, and from their wonderful questions; I was also able to see their hidden beauty. So, we took this picture before dinner.
Was my trip a worthwhile one? Well, I got home and nothing was left in me! Ottawa Christians "draw all my blood out." Hungry people don't just leave you alone! When you finish your teaching, they ask you questions. When you finish answering their questions, they take you out for lunch or dinner to ask you more. Yeah! I literally came home empty! I LOVE IT!
I need time now to get replenished with the River of Life who is always ready to fill me up! Don't you love Jesus? I love Him very much! ///