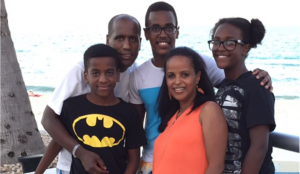 After a very short, well-deserved, family vacation, I'm back. Praise God!
I appreciate and want to thank all the A4P ministers who kept the page going in my absence, and attended to all who have stopped by at our inbox. A wonderful and amazing team of ministers! I love you guys very much!
Well, I want to share with you all one of my favorite family pictures we took at our vacation spot. I hope you like it; I love it!
I took with me three wonderful books written by the late Elizabeth Elliot: "Let me be a Woman"; "The Mark of a Man" and my favorite one, "Passion and Purity" (forwarded by Joshua Harris). Wonderful books! The author, Mrs. Elliot, finished her race and went to be with Jesus on June 15 of this year at the age of 88, but her legacy lives on until Jesus comes!
Here is one quote from her book, Passion and Purity, "While purity before marriage – – – consists in holding ourselves from one another in obedience to God, purity after marriage consists in giving ourselves to and for each other in obedience to God." (p. 180)
If you've never read any of her books, I highly recommend them all to you. She wrote more than 20 books.
Being rested and rejuvenated, may the Name of Jesus be praised forever; I can't wait to continue writing and speaking.
After I read some interesting comments on 'why men don't ask for direction' post, I've been thinking a lot about that question and want to write my take on it. So, God willing, tomorrow I will start off with that topic.
Till then, have a blessed Tuesday!
In Christ alone, Missy. ///