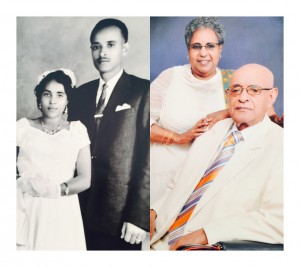 Today, my parents, my mom, Kessela Mengistu and my dad, Tadesse Kifetew, are celebrating their 55th wedding anniversary!
So, I want to write happy anniversary note for them here (my niece will read it to them):
"Wow, my lovely mom and dad, thank you for staying together! We, your kids are the number one beneficiaries for you two for sticking it out up to this day! I can't say anything but "Thank you and may God bless you!"
Thank you for setting the standard, of getting married and staying together through the thick and thin, too high for us, your kids!
My dad, your advice, "If you get married, marry never to divorce" and my mom, your advice, "Don't focus on the temporary pains and hurts but on the joy of their fruits at the end" stay with me until I depart from this life.
As the Bible says, your life and all your timeless advices are a garland to grace my head and a chain to adorn my neck! So, may the LORD help me never to be foolish and throw away what I learned from both of you!
"Listen, my son, to your father's instruction
and do not forsake your mother's teaching.
They are a garland to grace your head
and a chain to adorn your neck." (Proverbs 1:8-9)
I love you both! Both of you are my ornaments; my beautiful and golden wreath I wear in my heart wherever I go! I can't wait to come and see you both soon!
I pray for God to give you both another 55 years of anniversaries to celebrate! I know you both said this morning, "No! No! No! We don't want that kind of blessing! We lived enough! We are now the ones to bless you and your husband with 55 and more years of wedding anniversaries."
But mom and dad, I do want to bless you both like that because I want you both to celebrate your anniversaries every year, for the next 100 years because I love you both very much!"
I guess I better stop here because my tears of joy are on the way! ///