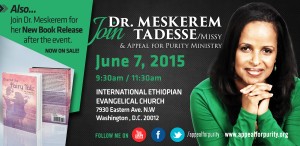 And I call it, "Beyond the Fairy Tale!" – My First Book!
Yes, you can find my very first book on Sunday, June 6 at the International Ethiopian Evangelical Church.
I will minister at the first and second Sunday morning services. If you are going to be in DC area next Sunday, make sure you join me, the Appeal for Purity Ministry and the IEEC folks for the first service, at 9:30am or for the second service, at 11:30am.
For those of you who can't come on June 6, my book will be available for on online order at (appealforpurity.org/storefront/) starting from Monday, June 07, 2015. ///