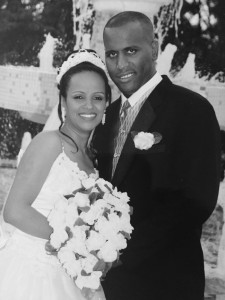 The Bible says, Jesus came to seek and save the lost! (Luke 19:10) And my Berhan and I were one of those lost people Jesus came for! And we praise Him forever for seeking and saving us!
Jesus is also a reason for our marriage to stand still until this day. Yes, just as it is with everybody else's marriage, the rain came down, the streams rose and the wind blew and beat against our marriage many times but because of the Foundation, the Rock, we built our marriage on, our marriage stood still! (Matthew 7:24-25) What the enemy meant it for evil God turned it all for good! (Genesis 50:20) Through it all, our love got stronger and deeper than ever!
That is why I say this morning: May the LORD Jesus Christ take all the glory, praise and honor for helping my Berhan and me see this day!
My Berhan and I tied the knot on Thursday, March 27, 1997. Wow! It is hard to believe that it has been 18 years since we began our journey as a husband and a wife! But I always feel like I've known my Berhan for my entire life because I met him 25 years ago.
As a brand new teen girl on the market of dating, WITHOUT CHRIST, I prepared myself to date a guy reading different romantic novels and those novels prepared me well to get lost in the dark as a professional "loser!"
My Berhan, who was as lost as I was, spoke to me over the phone for several months before he asked me out for a date. When he asked me out, I was tempted to say, "Not today" but hey, I was dying to be with him by that time. He used to listen to me over the phone for more than four hours straight, hardly saying anything but listening to my endless talks. I know you guys may wonder how we were able to talk for that long as both of us were under our parents' supervision.
Well, we were smart (my Berhan is still smart; me, well, that is debatable). He used to call me after 9pm which was (still is) the time every member of my family would be on their second dream and when Berhan went to his bedroom and locked the door after 9pm, his parents thought that he was studying.
So, one day he called me in the middle of the day and asked me, "Can I come and pick you up for a ride?" I was very excited, excited to the point of shouting "Hallelujah" (even though I didn't even know when and how to use that word). But I didn't want him to know that I was very excited. So, I calmly said, "Oh, okay. What time?"
Well, I came back home from that ride being very depressed. One of my older sisters asked me, "How was it?" I said, "Bad!" She asked, "Why?"
I said, almost like crying, "He didn't kiss me!"
She replied, "I can't believe you said that! I think this guy is a good guy for not kissing you." (Berhan loves this sister of mine like nobody's business).
Then on our second date, I came back home with another gloomy face and my sister asked, "Did he kiss you?" I said, "No, he didn't and I don't want to go out with him anymore! That is it!"
The same sister of mine fought for him saying, "Believe me, this guy is a rare one. You are just a spoiled brat. How can he kiss you before he knows you?"
"How can he kiss you before he knows you" kind of question was Gibberish for me because all I've learned from those romantic novels was that a guy will take a girl out and on the first day he kisses, touches her and do all those stuff.
So in my heart, I decided never to see him again. Even if he kept on calling and asking me to go out with him, I kept on saying, "I'm busy right now."
Then one day, he called and talked to me for half an hour and asked me if he could pick me up. I said to myself, "I'm going to give you last chance." I mean I didn't say that to him; only to myself. Then – – –
Well, I better finish the rest of my story on my second book. For now, let me say this, I'm very thankful that God saved us both and meant us to be together until this day!
So, my beloved Appeal for Purity Facebook page fans, as usual, you won't mind if I leave to my Love a happy 18th years-wedding-anniversary note here on the page, will you? I hope you won't!
"My Love, you know what strikes me the most these days? The fact that you always manage to keep me falling in love with you ALL OVER AGAIN! And here is the thing: I am looking forward to falling in love with you even deeper!
My Love, I love you more than you can ever know! Thank you my Love for loving me! Thank you for teaching me how to love you! Thank you for staying married with me until this day and promising me to stay married with me until death do us part! Thank you for forgiving me when I needed your forgiveness the most. Thank you for embracing me, me your crazy wife and all my visions and dreams for God's ministry. Thank you my Love for being my best-friend I won't get tired of spending my entire time with! My Love, I wish there was a different language that was reserved only for the expression of love between a husband and a wife. I would have used it here; but there is none. And the two languages I know well, both of them have failed me here to express what I want to say right now.
My Berhan, you are my husband (of course my brother too) in this side of heaven and you will be my forever brother in the other side of heaven. I love to think like that! Oh, my love, may the LORD make you a father of many nations! May He continue blessing you with every blessing one can have in this side of life! May He bless you with long life for you to be a great, great grandfather of many children!
My Berhan, it is my daily prayer that I be a better wife and a suitable helper to you; that I submit to your leadership; and that I respect and fear you as the Bible calls me to.
Well, guess where I want to spend my time today? At DC downtown, where else! A place which has most of our early-days memories!" ///