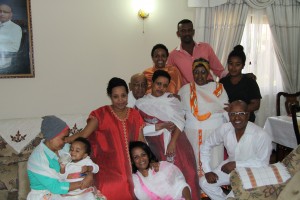 I have to share this family picture with all of you!
Oh, what a Christmas! I love it!
I'm not going to talk about the sun! Oh, no, I will hurt many people who are dealing with snow.
So, here is half of my family! The little princess you see is Tsion (my only youngest sister's daughter – my youngest sister is the one whose left hand is on my shoulder. Two of my sisters arrived here on Monday and Tuesday from London and Fenland and you can tell that Ethiopian sun didn't burn their faces, lol. My sister who is at the back came from Germany and my brother with glasses came from Sweden and I from Maryland, we got tanned really well, lol within two weeks. We love it, lol. We all are talking about the sun and how we can pack it in our luggage!
Okay, let me go and enjoy the rest of the holiday!