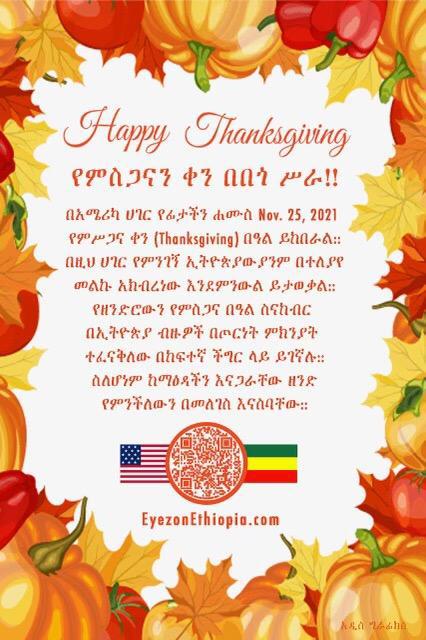 Sorry I don't feel like using the word "happy" today for the obvious reason (Ethiopia and Ethiopians are in the middle of war). However I want to use the word "Rejoice" for it is an appropriate word to use at any time:
"Rejoice in the Lord. And again I say, Rejoice." Philippians 4:4 KJV
Yes, we rejoice in Christ ALWAYS!
Even today as my people and my country, my prime Minister, Dr. Abiy Ahmed Ali, are in the middle of a furious battle, for the sovereignty of Ethiopia, an independent country? YES! I rejoice in Christ!
#NoMore to neocolonialism! Period! #NoMore!
Those of us Ethiopians and friends of Ethiopia who live in America, as we eat our Thanksgiving meals today, let's remember and pray for those 7 million Ethiopians who are displaced from their villages and don't have anything to eat or drink.
And, let's share our meals with them. It is easy to do that today. It took us, me and my family, two minutes only. Click the link and give: EyezonEthiopia.com.
Please let's continue praying, supporting and giving to our country, Ethiopia, our people, Ethiopians, and to our leaders, mainly to Dr. Abiy Ahmed Ali who is in the middle of the battlefield as we speak.
God is with us! He won't put us to shame! Truth shall prevail! Ethiopia will continue to be an independent and free country at the presence of her enemies. This is the way God loves to do His miraculous deeds:
"You prepare a table before [Ethiopia] me in the presence of [her] my enemies. You anoint [her] my head with oil; [her] my cup overflows." Psalm 23:5 NIV
Praise God! ///