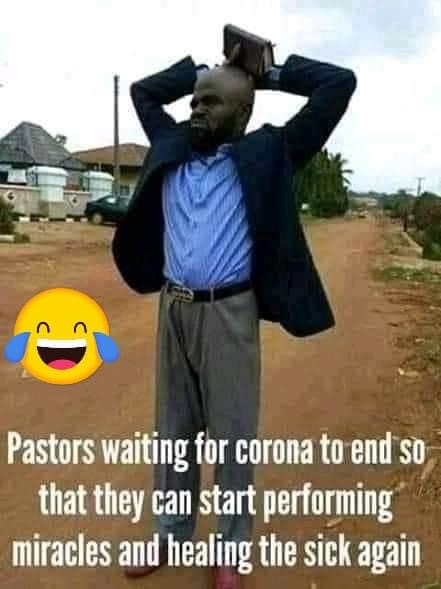 I have to be honest with you: I did laugh when I saw this picture on Facebook.
But my laughter immediately turned into grief, sadness, and some kind of despair.
Why? Because I think the picture has some truth.
Whenever I run into a video clip where a person claiming to hear directly from God, who has people gathered together desperately to hear from him, I tend to pray for the people, not so for the man/the woman on the stage.
But for some reason, this picture made me think about the man.
I don't think all men who are in the business of "I'm God's special anointed messenger" are out to purposely deceive many.
I think and believe that they themselves are victims of the devil; they themselves are deceived by the devil and he is using them as tools to deceive many.
God's own Messenger, Jesus Christ, is standing at the right side of God, and while reading this fact clearly in the Scriptures, how can anyone dare to come out and say, "I am God's special messenger?"
And how can we believers in Christ, stand and cheer him up for saying this?
No! No one will do such a thing if he/she is in his/her right mind.
They might be bewitched by the devil. Don't you think so? I think so.
So, I think it is better for us to pray for these kinds of men/women "in the hope that God will grant them repentance leading them to a knowledge of the truth,"
2 Timothy 2:25b
Notice one thing here: It is God who gives/grants repentance. That is why we pray for others.
Repentance is God's prerogative, to grant or not to grant repentance.
"For he [God] says to Moses, "I will have mercy on whom I have mercy, and I will have compassion on whom I have compassion." It does not, therefore, depend on human desire or effort, but on God's mercy."
Romans 9:15-16
So let's pray for God to grant these men/women mercy and bring them to the Truth, Christ, who is the only Messenger of God.
We are "Christ's ambassadors." This does not mean that we are God Messenger; rather we are jars of clay that God chose to put His "Message" in.
What more message do we need than Christ? What more miracle do we need to see than the resurrection of Jesus Christ from the dead? What more prophesy do we need to hear than the truth of the Resurrected King, and how He's resurrecting dead people, like you and I, in whom He chooses to live for His glory?
May His name be glorified forever!
And during this lockdown season, let's meditate on this kind of truth and Word of God. While we do that, please let's pray for those who are deceived by the devil and for those who are being used by the devil as tools to draw many away from the truth. ///