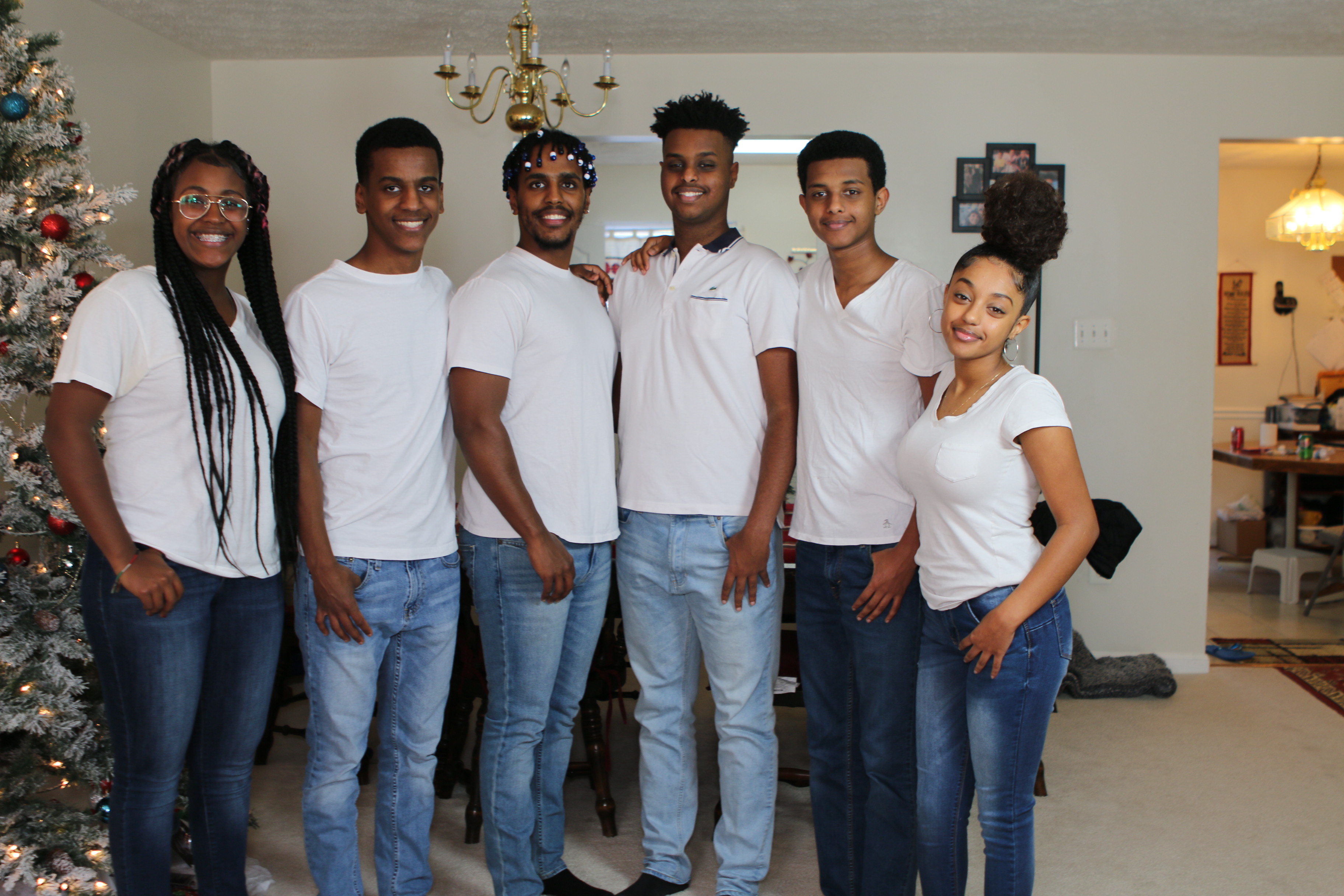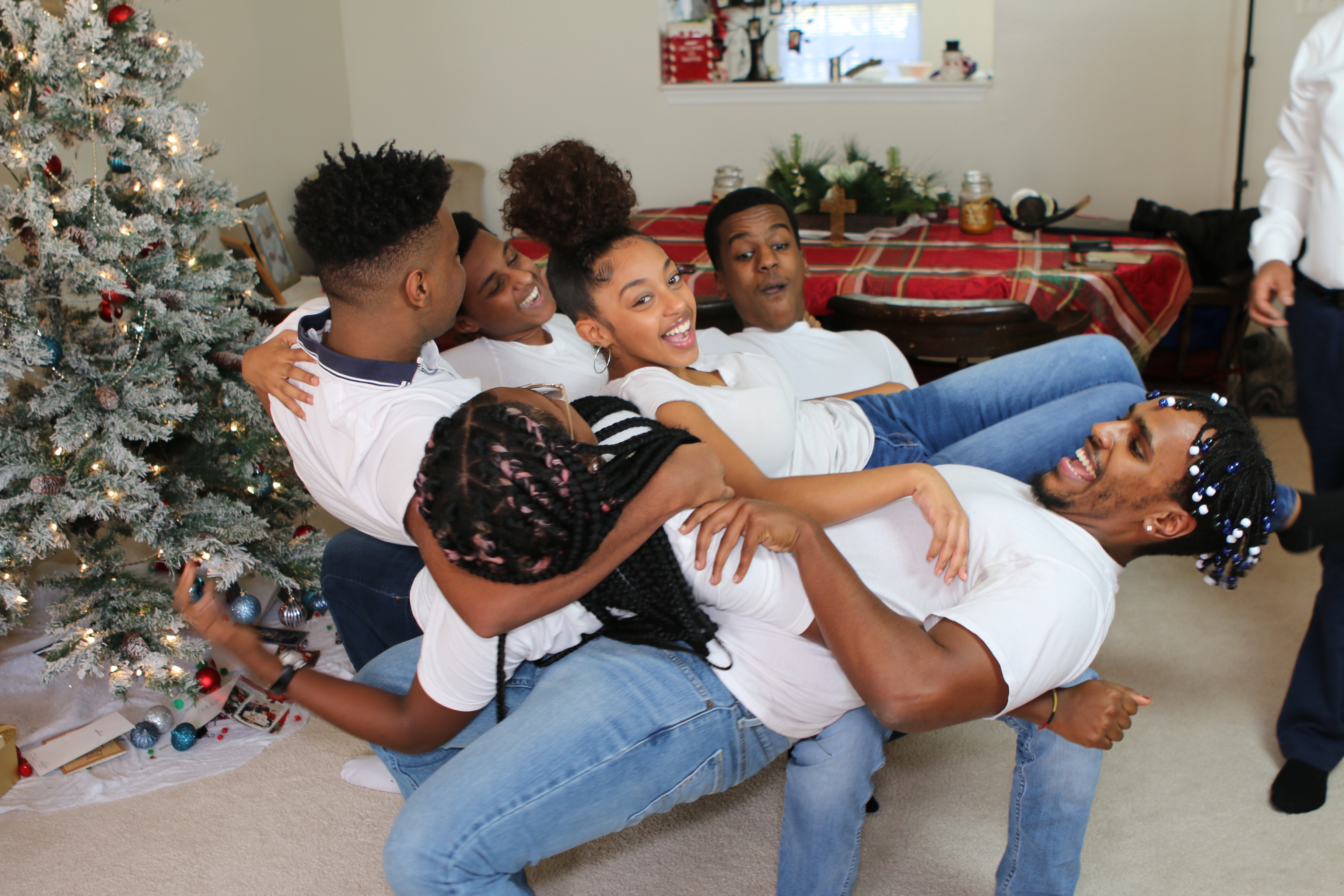 We had the most fantastic New Year celebration ever! Praise God!
I am just sharing with you two pictures from the billions of pictures we took today; and I believe, these two pictures are worth a thousand words and can tell you more than what I am about to tell you here.
From left to right, (1st pic): Lydia Banko (19), Biruk Banko (17) and Abel Banko (21) are our kids as you all know them by now (my husband, Berhan Banko and poor me, Missy Banko)
Then next to Abel: Ermias Hiskeal (in English – Jeremiah Ezekiel) (18), Nebiyu Hiskeal (17) and Ruth Hiskeal (15) – these three beautiful people are children of my older sister, Banchi and her better half, Hiskeal Negash.
These six musketeers grew up together. You have no idea how much they love each other. They literally have more videos and pictures together than we can even count. And they have lots of funny and crazy stories together.
The second picture shows you how much fun they have when they are together. Flexing their muscle is something they always do. Ruth is always the one making sure their strength and bond is still solid, so to speak.
They still sleepover for two or three, sometimes four days in a row, even though they're all so grown. Only Ruth doesn't drive now; the rest of them drive! I can't even believe that but it's true. They grew up before our very eyes.
Praise God!
My sister and I used to take turns babysitting these six so that we could have regular free times with our husbands WITHOUT OUR KIDS.
Yes, that definitely paid off now! We worked on our marriages by freeing each other every now and then from the hustle and bustle of changing diapers, breastfeeding, and all that. And we always made sure to free each other for two or three days straight, usually from Friday to Sunday night! I mean, you cannot beat that!
When we would drop off our kids, there was always one instruction we gave to the couple who was going to look after six kids, and that instruction was:
"Please don't call us unless they die!"
Oh, yeah! We were that serious when it came to our "alone time!"
Why?
Because we knew from the start that our kids could grow in joy and peace only if our marriages, their parents' marriages, are full of joy and peace. So, we strove to work on our marriages, helping each other to fight for our marriages.
So, what is the lesson I want to leave with you young married couples today?
Well, if you missed it from the above story, here it is: If you have little kids, please find a couple who also has little kids, preferably in the same age range as your kids, and partner with them (it is key that this couple believes in God and fears Him); find them not to raise each other's kids, but to help each other to take care of your "Garden of Eden," your marriage. When you are left alone with the person you're married to, you will find enough time to fan into flame the romance that otherwise easily dies out with all the pressure and stresses of raising little kids.
If you are raising your kids all by yourself, chances are, your marriage is struggling to stand still. So, please do everything you can to have a regular date with your spouse, WITHOUT YOUR KIDS, and preferably one of those overnight/out of town kind dates. That way, you will always be equipped to give your children a safe house that your children always feel good about and are proud to call "HOME."
No, good and healthy marriages don't come from heaven or don't come by accidents. You work hard for them to happen. And it is not easy to work on your marriage. I am not presenting this here as if it was something easy. But remember, nothing in life comes easy, especially the beautiful things, the ones worth fighting for. ///