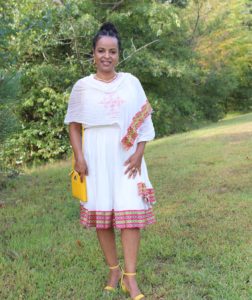 – – – Happy Birthday to Me!
Yes, I was born on Ethiopian New Year's day, as I was told, in the morning at 7am.
That is why they called me Meskerem (the first month of the year in Ethiopian calendar).
Isn't that nice? I think it is.
My Ethiopian New Year resolution is this:
To strive to walk in forgiveness!
Praise God! Yes, with God, that kind of life is possible.
Will you join me to do just that this year, 2012, laying it all down, our pains and hurts, at the feet of Christ and live with others with forgiveness, peace and love!
Do you know why we forgive others?
Because we too hurt others and need their forgiveness and above all, we need the forgiveness of God, not once, not twice but countless times!
And God has forgiven all who come to Him through Jesus Christ who died on the cross for all our sins. May His name be praised forever!
"Because of the Lord's great love we are not consumed,
for his compassions never fail.
They are new every morning;
great is your faithfulness.
I say to myself, "The Lord is my portion;
therefore I will wait for him."" Lamentation 3:22-24 ///