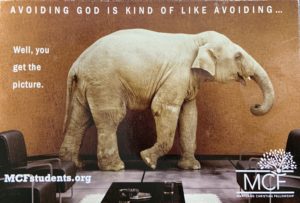 If you say this to people, "there is an elephant in the room," you mean there is a very serious and difficult problem in their lives that they don't want to talk about.
God will become a big problem in our lives when we ignore Him!
Salvation actually means primarily being saved from God Himself, from His wrath and anger.
When we ignore this powerful and fearful God, we're in a way saying to God, "I can do life without You." And when we say that, God will let us have life without Him.
And that, my friend, is not life but death.
Don't just say, "But I believe in God and I always go to church," because the Bible says, "You believe that there is one God. Good! Even the demons believe that—and shudder." James 2:19
If you just believe in the existence of God, it won't do you any good expect putting you in the camp of demons.
The word of God says, "You see that a person is considered righteous by what they do and not by faith alone." James 2:24
Yeah, recognizing the existence of God alone won't do us any good but also giving all our lives to Him, our love and devotions.
Some people don't seem to ignore God when you hear them talk about Him but they ignore Him by the way they do life.
So, the message is this: Don't ignore "the Big God" in your life. When you ignore Him, He will become the big and obvious problem in your life and marriage (if you are married).
So, be honest and a judge on yourself and look at your life and ask yourself: "Am I ignoring this big God in my life or am I giving Him all I got, my life and all my devotions?"
The answer you get is a true answer.
God says, "My people have committed two sins: They have forsaken me, the spring of living water, and have dug their own cisterns, broken cisterns that cannot hold water." Jeremiah 2:13
How can we dare to forget the One who is the spring of living water?
Doing so is like putting a fish out of the water and expecting it to make it in life on dry ground. It can't!
Without letting God and His word dictate our lives, we are just like that fish who is taking its last breath on dry land. ///
P. S. By the way, if you look at the flyer I am attaching with the post closely, you can see that there is a website and a name of a church, Maryland Christian Fellowship. This small church does great things around here in Maryland in the lives of many students. So, if you are a student here in University of Maryland, make sure you look for this church. They meet around College Park campus. If you join this church, you will benefit greatly.