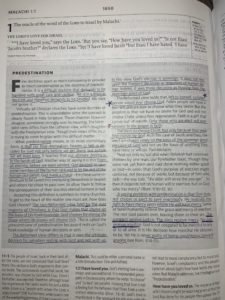 Predestination is the most controversial topic in the Christian community.
And many who argue about this don't have any clue what it is. Isn't that funny?
Predestination is not just in my brain, it is in my heart, it is ingrained on each of my DNA, I suppose. It is the topic that gives me so much joy in my heart and it throws me at the feet of Jesus to ask Him with tears, "Why am I among the ones You chose to save? Why?"
Anyways, please read the note I attached with this post carefully. As usual, don't rush to finish it. This is not a simple note that can be understood easily.
And here is another instruction: Please don't be quick to write your comment. Take your time. The post won't go anywhere. As you know, a post on this page comes to stay. So, take your time. Think! Refer to your Bible, wrestle a bit, see if you read something new that you've never read before. Then if you have something to say, by all means, write it down.
And if you live around here, in the Eastern Standard Time Zone, you are getting ready to sleep. If you are, make sure you take this with you to your bed and read it slowly.
Then sleep. Remember? I said, doing so is a good sleep hygiene. ///