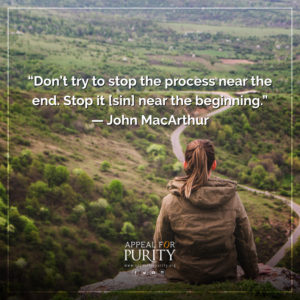 Struggling with a sin, especially a sexual sin, is something that saps one's energy and if not handled according to the Bible, it chips away one's faith in God.  
Some people think that by pretending that they are not struggling with a sexual sin or totally hiding it from others, they think that it will disappear from their lives.
Others believe that a sexual sin, such as addiction to porn and self-sex, disappears if they get older or get married. They thought, "I am struggling with this because I don't have pure sexual outlet but once I get married, I will be totally free from it."
I mean, if that was case, a verse would have been inserted in the Beatitudes (Matthew 5) that goes something like this: Blessed are the married people for sexual purity belongs to them.
But the truth of the matter is, unless sin is not dealt with according to the Bible, it ain't gonna go anywhere! Actually when a person gets married, the addiction gets intensified, changing its face and ways of its manifestations.
Again some people, sadly enough, think that it is the devil who is making them do "it" and they go around looking for one "VERY anointed" minister who can rebuke this devil out of them. So, they say, "I was slain in the spirit and it's been now six months since I saw any porn!"
"Hallelujah! May the name of the LORD be praised," right? I mean, what else?
Then they disappear. You wonder where they went. Then you later hear, "The devil got me at the wrong time. I left my house without biding him because I forgot to do that and he pushed me into it."
I will say this to that: Get your doctrines right! It is not the devil who lives in you but sin itself.
Paul writes: "I do not understand what I do. For what I want to do I do not do, but what I hate I do. And if I do what I do not want to do, I agree that the law is good. As it is, it is no longer I myself who do it, but IT IS SIN LIVING IN ME." Romans 7:15-17
Do you hear that? It is sin living in me! That means, you need to put this "thing" that lives in you to death.
The Bible says: "Set your minds on things above, not on earthly things. For you died, and your life is now hidden with Christ in God. When Christ, who is your life, appears, then you also will appear with him in glory. Put to death, therefore, whatever belongs to your earthly nature: sexual immorality, impurity, lust, evil desires and greed, which is idolatry." Colossians 3:2-5
Wow! Do you hear that? Your life is hidden with Christ in God! So, what do you do with the sin that lives in you until you depart from this life?
You constantly put "it" to death!
Listen carefully: For this "thing" (sin) that lives in you to take over your life, you have to find for "it" a friend, like a "life-partner" – let's assume that it is "he" and you have to find for it "she" so they can get married and give birth to "a child."
So, it lives in you, looking and seeking for a mate. It needs your help and it actually demands that you find a mate for it. So, it works through the members of your body parts, demanding that you work hard for it, making you its slave, so you find a mate for it, asking your eyes to look around, your ears to listen to anything you can and your minds to dwell on filthy fantasies.  
By this time, if you say to yourself, "What in the world! This is too much for me to stand against! I may as well give in to its demands," and you start looking, hearing and thinking about things that are not appropriate for you.
Then as they say, the rest is history!
I mean, you throw a party, a kind of party he loves to be part of, a party that he is welcomed to join any time. So, he comes uninvited and makes himself at home, making the party look and feel like normal as he takes off any light that is left. Then he takes out his card, called "tricking God's people with the word of God!" Do you hear that? With the word of God! "Go with the motion! After all the Bible says, God protects those who are His, does it not? So, He will protect you from any danger. Enjoy it now while it lasts and worry about the rest later!"
Hmm! And anyone who wants to stop "sin" at this stage is nothing but a FOOL because no one can!
Because the child is born!
James writes: "each person is tempted when they are dragged away by their own evil desire and enticed. Then, after desire has conceived, it gives birth to sin; and sin, when it is full-grown, gives birth to death." James 1:14-15
 So, when is the best time to put this thing to death?
John MacArthur says this in one of his recent sermons called "How to deal with Habitual sin": "Don't try to stop the process [sin] near the end. Stop it [sin] near the beginning. You wanna stop sin at conception, not after it's been conceived and run through a certain period of pregnancy, if you will,  and now it is about to give birth to the sin." Beautifully put!
So, as I always say, I have never counseled or helped in any way a person who is struggling, for example, with porn addiction, who has intimate relationship with the word of God, who has a vibrant prayer life and fellowships with other believers.
Letting go of these Christian disciplines, studying the Bible, praying and worshiping God with others, is like saying to "the sin" that lives in us: "Here I am at your service; I can find you a mate so you give birth to all kinds of children on my body."
The Bible says, "Flee from sexual immorality. All other sins a person commits are outside the body, but whoever sins sexually, sins against their own body." 1 Corinthians 6:18
All other sins are done outside the body but sexual sins are committed on the body.
So, the sin won't take over the body, the Word of God commands us this:
"Therefore, I urge you, brothers and sisters, in view of God's mercy, to offer your bodies as a living sacrifice, holy and pleasing to God—this is your true and proper worship." Romans 12:1
Love it! Giving ourselves to the reading/studying the word of God, praying/fasting and getting involved in a corporate worship is our "true and proper worship."
I wish I've read articles like this when I was 19! But I haven't. It is okay. At least I write today so I may share it and may probably help one 19-year old person out there. Who knows? I may also help a 90-year old person if they didn't deal with sin until this day. ///