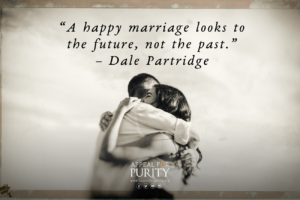 We all agree that there is no perfect marriage on this side of heaven.
Well, that is a downer because most of us believed in perfection and strove throughout of our married lives to achieve it. The thing is, even if marriages cannot be perfect, they can be good or bad or happy or sad.
Okay, that is much better! So, we can strive to build a happy marriage! But how do we know when we achieve the goal, whether we have a happy marriage or not?
Dale Partridge gives us one good diagnostic test to see if our marriage is a happy one or a miserable one. So, here is how this diagnostic test works: 
If we tend to sit with our spouse and talk about our future together, talk something like this:
"Sitting at the balcony, looking at the sunset: Hey Baby, when all our kids leave our nest, we will sell this house and buy one small and cute house that has NO kitchen. Then we always go out and eat once a day in a restaurant and for dinner, we just eat salad. How is that sound to you? Then before we get any reply, we start to enjoy the smell of the-yet-to-come future! Awww! We're getting old together! And the thought itself melts our hearts."
If this scene is somehow true in our marriage, our marriage is a happy marriage.
However, if we often comfort ourselves saying, "Hang in there! Before you know it, you will die and come out of this marriage," well, we do not have a good marriage.
The good news this: As long as there is air in our lungs, in whatever condition our marriages might be, there is help and hope for all of us. Praise God!
I remember the day my husband and I sought marriage counseling. May the name of Jesus Christ be praised forever! I still have a vivid memory of that day.
Yes, we all have hope and we all have a marriage that has a potential to be a good marriage and a happy marriage! Let's refuse to settle for one of those "we tolerate each other" kind of marriages. Oh, no! God forbid we let ourselves live in that kind of marriage. 
God's will for our marriage is for us to enjoy each other and flourish in our perspective God-given roles, husband/wife role, according to the word of God (Ephesians 5:21-33). When this becomes true in our marriage, our marriage brings glory and praise to God because our marriage has an eternal seal on it, to be the beacon of light in this dark world, the shadow of "the-yet-to-come" marriage of Christ Jesus and the church–the only marriage there will be in heaven.
So our marriage [your marriage and my marriage] is a personal issue for God. When we get up to work on our marriage, we find out that God has always been there, waiting for us, to help us build our marriage so it will be what it is supposed to be. ///