[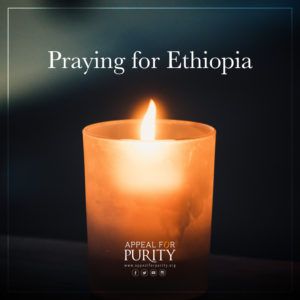 I made a decision today to stay home and sit and cry with my people.
Thanks for the Internet and all the technology that I was able to cry with my people, with the families and friends of the fallen Ethiopian heroes.
But at the end of the day, I guess I was emotionally a bit overwhelmed and got up from my seat. I wiped my tears saying, "Victory belongs to the one who has done no evil!"
Yes, not only those fallen men are heroes but they are also victors for they had done no evil to deserve this.  
Isn't that comforting truth to know? It is!
Victory, when defined correctly, it doesn't mean murdering others, taking the lives of others for any reason, but dying for the sake of others, for the well-being of many, like Mahatma Gandhi, Martin Luther King Jr and many more.  
This truth itself gave me some comfort.
But there is nothing as comforting for me today and forever as the word and truth of God. So, I turned to my books, spiritual books, I am reading these days and the truth about the sovereignty of God gave me peace and rest to my disturbed soul. Praise God!
"Nothing in all creation is hidden from God's sight. Everything is uncovered and laid bare before the eyes of him to whom we must give account." (Hebrews 4:13)
"I know that you [God] can do all things;
    no purpose of yours can be thwarted." (Job 42:2)
God is in control! Yes! Many unanswered questions, many things are not clear yet. We may actually never ever know the truth on this side of heaven but God, the Sovereign LORD, knows everything and He is in control. He knows how to deal with all these things. After all, at the end, the plan and purpose of God for Ethiopia shall prevail for no purpose of God's plan can be thwarted! None! 
Abba Father, please remember my people, Ethiopians. Please comfort everybody, especially the families and friends of the fallen men. Thank You for not giving up on us, Ethiopians and thank You for protecting Ethiopia as a country. ///