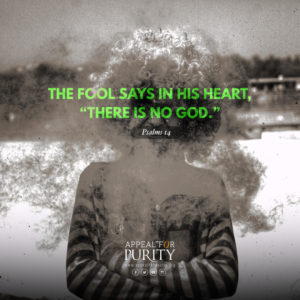 "The fool says in his heart,
    "There is no God."" (Psalm 14:1)
Did he look and search for God and could not find Him?
Then why does the fool say in his heart there is no God?
Here is the thing: You see, the fool denies the existence of God so he lets himself go with "the motion."
What's wrong with letting oneself go with the motion?
For one, "the motion," implies impulses and cravings of the flesh. Just imagine for a second what that life looks like. In short, it is not life but death.
The other thing is this: The fool forgets that he is a created being; means, he didn't create himself. He has a Maker. And his Maker created him to glorify Himself. The created being finds wholeness and fullness, and meaning and purpose for his life only in glorifying his Maker. He cannot say, "I don't want wholeness, fullness, whatnots. I am good the way I am." His Maker wired him, created him to desire to have those things.  
Well, that will bring us back to square one: The fool cannot "live" with his foolishness long until he comes to grips with the fact that denying the existence of God means denying himself to live life to the fullness.
"Where can I go from your Spirit?
    Where can I flee from your presence?
If I go up to the heavens, you are there;
    if I make my bed in the depths, you are there.
If I rise on the wings of the dawn,
    if I settle on the far side of the sea,
even there your hand will guide me,
    your right hand will hold me fast.
If I say, "Surely the darkness will hide me
    and the light become night around me,"
even the darkness will not be dark to you;
    the night will shine like the day,
    for darkness is as light to you." (Psalm 139:7-12) ///