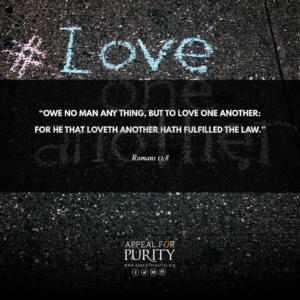 When we owe others nothing but love, we will be declared innocent.
This can only be done practically by decision. Sure, God is love; means, we can't make ourselves to love others unless we first receive "love."
Well, Romans 5:5 says, "God's love has been poured out into our hearts through the Holy Spirit," that means, love is there, siting in our hearts. We just have to realize and accept this truth and act on it.
When we pick up that love that is sitting in our hearts and put it to work, we owe no man anything. 
The one character of this love is that it cannot sit in a heart that contemplates sin. For example, lust and love are not compatible, they cannot exist in the same heart.
That is why this statement is a lie from Hades: "I love you so much I want to have sex with you before I marry you."
No one who is in Christ and knows and understands love can be misled by that statement because they know that the word "love" is used as an "icing" to cover and disguise the look and stench of death that is coming out "lust." ///