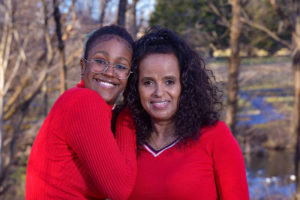 The beautiful girl you see in the picture with me is my only daughter, Lydia Banko.
You won't be surprised if I tell you that I love this girl to death, will you? I hope not. Yes, I love my only daughter to death. I can't imagine my life without her being in it.
Lydia is a very compassionate person. She is two years older than her little brother but she treats him as if he was seven or ten years younger than her. She took the burden of protecting and mentoring her little brother early on in her life.
One day, I think she was seven years old, I was running around to bake something for them for snack. Whenever I cook or bake something, she tries to help me no matter how small her help might be.
So, she brought a step stool to stand next to me. My little one, who was five, was sitting down at the kitchen table. He was a brand new kindergartner and I thought he didn't have much to say about his new school.
Then from nowhere, he said, "Mom, what is this sex thingy?"
Just imagine. I looked as though someone splashed cold water on my face
. I immediately turned around to him and opened my mouth but all those wise ways of responding to kids' unexpected questions I read from Dr. James Dobson's books disappeared from my mind in an instant. So, I opened my mouth and got frozen as if someone pressed a "pause button" in life.
Then, without wasting her time, Lydia took the matter into her own hands as if my son directed the question at her. So, she put down the fork she was holding, stepped down from the step-stool and walked up to him with a beautiful smile and said, "Biruk, sex is a very beautiful gift God created; and as mom told me, it is a very precious and enjoyable gift, but only when it happens between a husband and a wife. Am I right, Mom?"
I was like, "Who? What? Where?"
And I managed to say, "Yeeeah, you are absolutely right. I couldn't agree more!"
My son, who is a very good listener just like his dad, looked at his sister until she finished and turned to me to see if I agreed with her answer. Then he moved on to the next question as if the first one was the irrelevant one. He seemed very satisfied with her answer though probably because his sister, the one he used to look up to, addressed his question well in a way that quenched his curiosity.
I mean, can you just imagine me starting from Genesis and working my way up to Revelation to show him what sex is! Phew! I was rescued!
According to the teaching of the Bible, God created sex to be practiced inside marriage.
The opposite of what your Smart phone manual's says: "This phone is created to be used outside water."
As the manual of our Smart phone is telling us how we can best use of the phone, the Manual of life (Bible) always tells us what is best for us, having our best interest at heart.
So, it is always safe for all of us to follow what the Manual says. If we decide to do life outside what the Manual says, we are saying in effect, "I will be responsible and deal with all the consequences of my action." ///