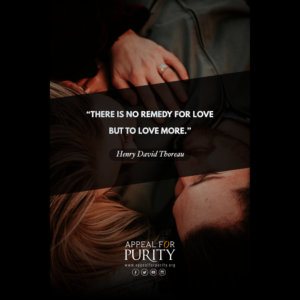 When you love someone, what do you do?
Well, truth be told that I married my husband because I loved him (I still love him).
But if we see love as a problem to solve, how do we solve that problem?
Some people say, "You know, if I love someone, I have to sleep with them."
Even if you are not married, are you going to sleep with the person you love to solve the problem of loving?
The remedy for love, as Henry David Thoreau puts it, is "to love more."
That means, at least for us Christians, to continue to love until you give everything you have for love "is patient, love is kind. It does not envy, it does not boast, it is not proud. It does not dishonor others, it is not self-seeking, it is not easily angered, it keeps no record of wrongs. Love does not delight in evil but rejoices with the truth. It always protects, always trusts, always hopes, always perseveres. Love never fails." (1 Corinthians 13:4-8a)
If this is the case, how can sleeping together before marriage can be a remedy for love?
Sex before marriage is everything but a sign of love. It is not love but lust and it is sinful.
So, if you love your girlfriend, love her more by adding to your love patience, kindness, godliness, faith, humility, forgiveness, sacrifice, trust and hope as you wait until you make her yours at your wedding night. ///