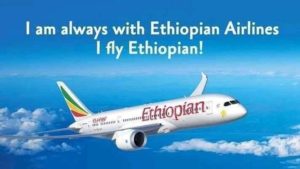 I won't change my mind to make Ethiopian Airlines my first choice of airlines!
Yes, the recent airplane crash is sad, very sad; but that doesn't mean that Ethiopian Airlines is a bad Airlines. It just means that the manufacturer of Boeing 737 Max 8 has to stop manufacturing those planes. Period! 
Ethiopian Airlines captains are the best in the world!
I can't wait to fly with Ethiopian Airlines. I booked all my recent and future flights with Ethiopian Airlines because Ethiopian Airlines has always been the best airlines and it will continue to be! ///